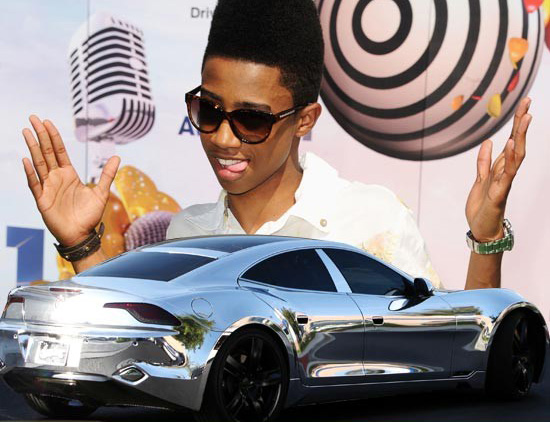 You know how there are some good-for-nothing friends who do nothing but land in hot messes and walk away while you brave the fire that they lit a match on? Lil' Twist is that friend for Justin Bieber.
The rapper already got the Biebs mixed up with some marijuana troubles recently, but now, the YMCMB pet dinosaur has gone and wrecked of Justin's fancy cars, according to TMZ:
We've learned Lil Twist was driving Justin's chromed-out Fisker Karma Tuesday, just after 6PM, when he crashed into cement poles protecting a wall at a San Fernando Valley liquor store … damaging the poles and badly damaging the front-end of the car.

Sources tell us … either Twist or one of his passengers told an eyewitness, "Do you know whose car this is? It's Justin Bieber's car."

We're told a few minutes later, a BMW roared up to the parking lot and the driver told Twist and the passengers, "Get all the pieces from the car [that fell] and put it in the car [the BMW]." After putting the Fisker parts in the BMW, the 3 men took off in the BMW, leaving the Fisker behind.
CHECK OUT THIS PHOTO FROM THE SCENE: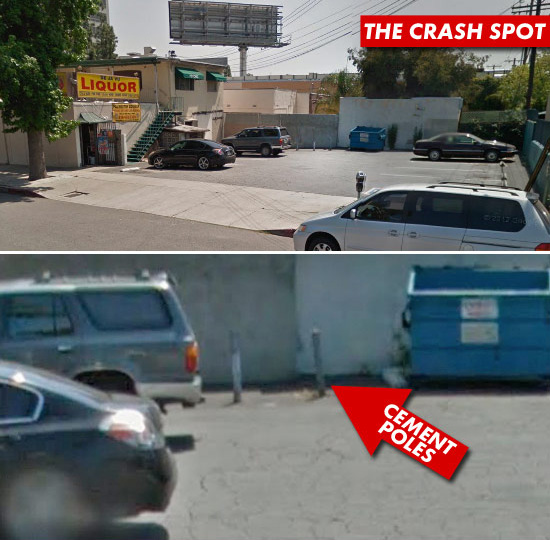 And believe it or not, this isn't the first time Lil' Twist has been caught doing ratchet shit with his BFF's expensive whip. TMZ notes:
You'll recall … Twist also caused thousands of dollars worth of damage when he bottomed out Justin's Ferrari in the Four Seasons Hotel parking lot [in January]. And Twist was speeding in Justin's Ferrari January 1st when he was stopped by the CHP. A photog died while taking pics of the scene.
Look, at this point, Justin better cut this dead weight before he goes and hits a pregnant mother or something while smoking weed, sniffing bath salts and texting while driving. Lil' Twist should change his name to Lil' Pest.
Pics: TMZ
Be the first to receive breaking news alerts and more stories like this by subscribing to our mailing list.