It has been a rough 24 hours for Justin Bieber. Yesterday Bieber was hospitalized after he fainted back stage and complained of shortness of breath (Doctors decided to keep him over night for observation). And this morning, while Bieber was leaving the hospital he got into an extremely heated confrontation with a paparazzo.
The argument ensued after Bieber ran to his awaiting van and allegedly made physical contact with the photog on his way into the vehicle. Video footage from TMZ shows the photographer as he yells and curses at Bieber after the teen pop sensation got into the vehicle.
"Fuck off back to America!" the photographer shouted. "Fucking little moron!"
Bieber didn't take to the photog's insults too kindly either, because after hearing what the man said, the 19-year-old jumped out of the van and screamed, "What the fuck did you say?" while his bodyguard held him back.
"You heard what I said, you heard what I fucking said mate!" the photographer replied.
"I'll fucking beat the fuck out of you!" Bieber fired back.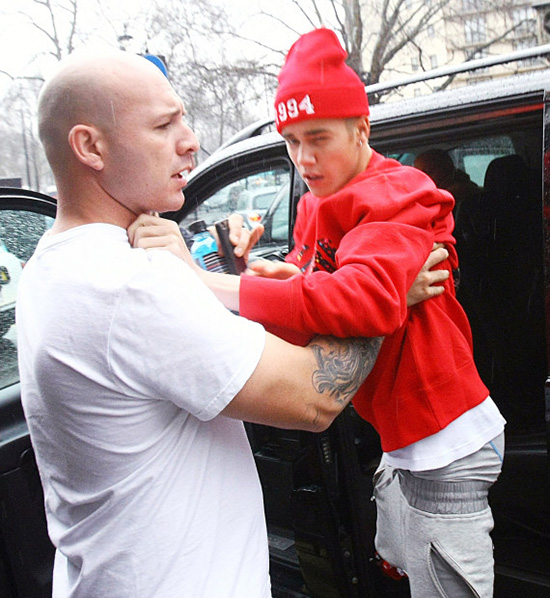 Justin then tried to hit the photog, but his bouncers pushed him back into the van and they left.
Bieber later took to his Twitter and talked about the incident in a series of tweets. He wrote:
Ahhhhh! Rough morning. Trying to feel better for this show tonight but let the paps get the best of me…Sometimes when people r shoving cameras in your face all day and yelling the worst thing possible at u…well I'm human. Rough week. Not gonna let them get the best of me again. Gonna get focused on this show tonight. Adrenaline is high now. Gonna put it on the stage. Only way someone can break u is if u let them.
Rough week indeed.
Be the first to receive breaking news alerts and more stories like this by subscribing to our mailing list.