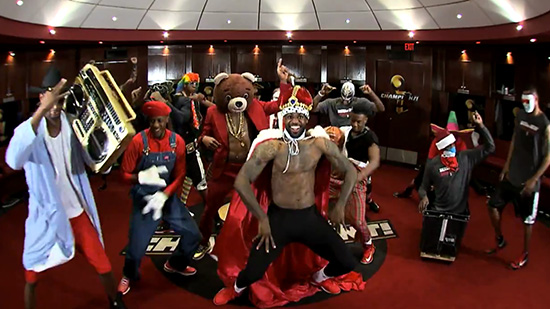 If you're tired of the "Harlem Shake," well then that's too damn bad, because a new video released by the Miami Heat is probably going to make the weird dance craze even more popular.
Titled "Harlem Shake: Miami Heat Edition," the less than 1 minute video clip shows the Miami Heat dancing to "The Harlem Shake," complete with solo dance breaks and wacky costumes.
LeBron James is dressed up like a king (King James. Get it?), Mario Chalmers is supposed to be Super Mario (Clever! LOL), Chris Bosh is rocking a cowboy hat with a huge gold boombox on his shoulders, and someone who appears to be Dwyane Wade is wearing a bear head. It's pretty difficult to decipher the other teammates in the clip though.
For those unaware of what the "Harlem Shake" is, and what it's all about, let us forewarn you that it is NOT the same dance that Bow Wow used to do back in the early 2000's when he was "Lil Bow Wow." This is something totally different.
According to Wiki:
The videos last between 30 and 32 seconds and feature an excerpt from the song "Harlem Shake" by electronic musician Baauer. Usually, a video begins with one person (often helmeted or masked) dancing to the song alone for 15 seconds, surrounded by other people not paying attention or unaware of the dancing individual.

When the bass drops, the video cuts to the entire crowd doing a crazy convulsive dance for the next 15 seconds. The dancing style should not be confused with the original Harlem Shake dance. Additionally, in the second half of the video, people often wear a minimum of clothes or crazy outfits or costumes while wielding strange props.
LeBron and his boys may be a little late to the "Harlem Shake" party, but this video is HILARIOUS:
Be the first to receive breaking news alerts and more stories like this by subscribing to our mailing list.