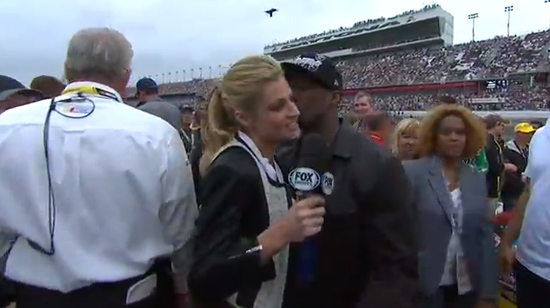 After 50 Cent bedded Chelsea Handler, he must've assumed that every white woman had jungle fever for him, cause he just crept all up on poor reporter Erin Andrews at a NASCAR event like they were real familiar.
As Andrews was making her way through the crowd and giving her on-air report, she unexpectedly bumped into 50 Cent, who immediately went in for a peck on the cheek.
WTF? Is 50 Cent Italian now? We know he ain't greetin' chicks in Queens with a kiss on the cheek so why's he tryin' to act all fancy now?
Anyway, Erin was clearly caught off guard she tried to avoid his kiss like he had a herpes outbreak on his lips. She whipped her head around furiously before she graciously offered 50 her cheek for a quick peck.
Watch the whole fumbling scene play out below:
Next question: What the hell was 50 Cent doing at a NASCAR event anyway?
Be the first to receive breaking news alerts and more stories like this by subscribing to our mailing list.