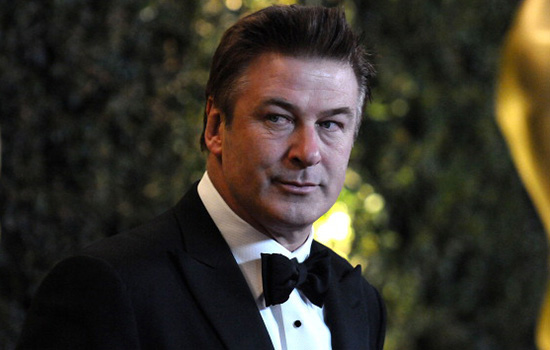 Alec Bladwin has been known as an angry asshole of a person for some time now, but he can now add "accused racist" to his repertoire after the actor reportedly lashed out at a photographer and fired off numerous racial slurs towards him.
The "30 Rock" star was walking his dog when he was approached by New York Post photographer G.N. Miller and reporter Tara Palmeri.
According to the NY Post, Palmeri asked him to comment on the lawsuit that was recently filed against his wife Hilaria Thomas — who is being sued by a NYC resident who claims that he suffered "serious" injuries during one of her classes.
The inquiry angered Baldwin and he allegedly called Miller, who is African American, a "coon," a "crackhead" and a "drug dealer." The 54-year-old actor also allegedly grabbed Palmeri and said "I want you to choke to death."
"He was saying some serious racist stuff," Miller, a retired NYPD officer said. "He said some choice words about my mother, and he was telling people in the street that I'm a drug dealer. He could have said a lot of other stuff. But he used all of the stereotypes associated with black people."
Miller has filled a harassment suit against Baldwin.  After the incident, Baldwin posted and later removed numerous angry Tweets about the incident.
"Thank u 2 NYPD officers who came to my home 2day so that I could file a formal complaint against NY Post "photographer."

"Moments after I tweet about the Post, Ralston, the ex-crackhead 'photographer' shows up at my door w 1 of Murdoch's nieces in tow."

"Ralston claims he's ex NYPD!! That can't be!!! Ex NYPD don't become crackhead, ex jailhouse paparazzi!"
Baldwin, who has a history of attacking photographers, also denied directing a racist slur at Miller, citing his support of the Arthur Ashe Learning Center — an African American organization — as evidence that he isn't a bigot. "I find it ironic that my foundation's last grant was $50,000 to the Arthur Ashe Learning Center," he said.
Typical "I'm not a racist, my best friends are black!" response.
Meanwhile, Alec Baldwin's side of the story is that he was accosted by G.N. Miller, and the Post is doing whatever they can to make him seem like a horrible person.
"This guy was right up in my face as I crossed [the street]," he explained to Gothamist. "I get to the other side of the street, and he bumped into me. He banged into me with his shoulder, because he was right on top of me with the camera. In my mind, it was deliberate. I've had that happen before. It happens sometimes, because they want to bait you, they want you to do something."
Baldwin also had some pretty strong words for the New York Post:
"The Post will stop at nothing — that's what The Post is. Their function is to denigrate people, humiliate people, reduce people, make excuses for people who are their political partisans. It's a highly biased, highly politicized group of people. However, I'm stunned that they would resort to that. Even for The Post, this is a new low."
Whatever dude.
Be the first to receive breaking news alerts and more stories like this by subscribing to our mailing list.