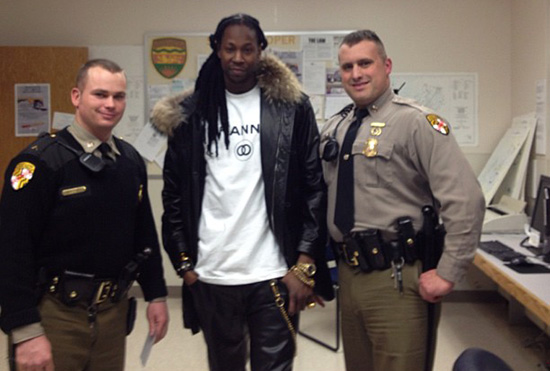 2 Chainz was arrested for marijuana possession last week in Maryland the night of Valentine's Day after he was pulled over for speeding, but the rapper says he feels as though the cops arrested him just so that they could brag about taking a picture with a famous person.
The Atlanta rapper and his entourage including six other people were reportedly headed to a concert at the University of Maryland Eastern Shore last Thursday night (Feb 14) when Maryland state troopers pulled over the white van they were traveling in.
When police approached the van, they smelled marijuana coming from the vehicle, and after executing a probable cause search, they came across a backpack that contained a grinder and trace evidence of marijuana.
2 Chainz, whose real name is Tauheed Epps, confessed that the backpack was his, and he was arrested on the spot and charged with possession of marijuana and drug paraphernalia.
Chainz was subsequently booked at the local precinct, and was later released with a citation … but not before the rapper's clearly star-stricken arresting officers asked him to pose for a quick picture, to which he obliged. Because honestly, who's going to turn down a request from the very people who hold your freedom in their hands?
After he was released, 2 Chainz took to his Twitter to vent about the situation:
Locked me up and then Wanted pictures smh instagr.am/p/VvSPnWTYS7/

— Tity Boi (2 Chainz) (@2chainz) February 15, 2013
We to jail for a grinder??? REALLY???

— Tity Boi (2 Chainz) (@2chainz) February 15, 2013
UMES we on the way , dam police fuckn wit a nigga , we fina turnUP

— Tity Boi (2 Chainz) (@2chainz) February 15, 2013
Oh, and get this. 2 Chainz says he didn't even have weed on him when he was arrested … only a grinder — used to crush up weed so you can roll it up and smoke it, which could be considered "drug paraphernalia."
When asked whose idea it was to take the photo, a rep for the police department told TMZ, "We cannot confirm who initiated that at this time" — which really means, "We are aware how stupid and unprofessional our entire department looks, and would appreciate it if you didn't make a big deal about it."
Too late!
And just in case you were wondering whether or not Chainz made it to the show, he did. He posted the following photo to his Instagram along with the caption: "Show must go on much love UMES."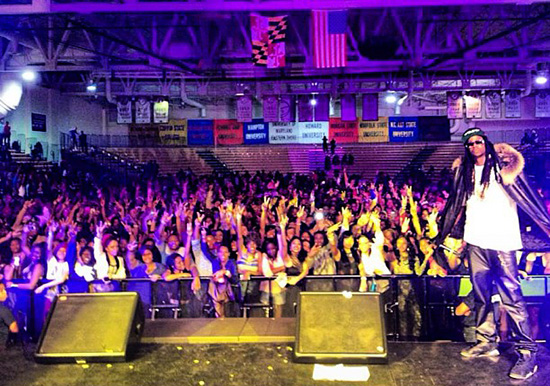 Be the first to receive breaking news alerts and more stories like this by subscribing to our mailing list.