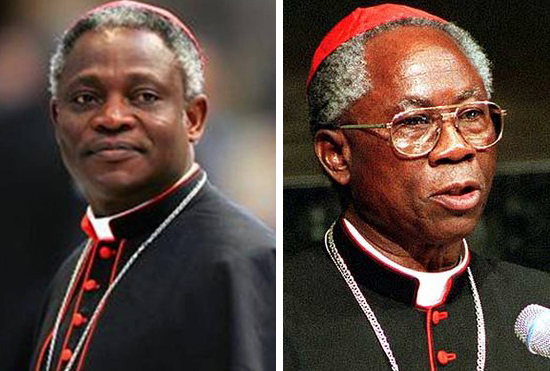 Pope Benedict's surprise resignation has stunned faithful Catholics and observers around the world. Traditionally, the only way out of the papacy for most popes has been through death. But Pope Benedict has boldly (and smartly) opted to go out in dignity rather than wither away in senility and declining health like his predecessor Pope John Paul II.
Now that Pope Benedict's time is over, attention is shifting to who will succeed him and on the short list are two black men who've risen to prominence and influence within the Catholic Church: Cardinal Peter Turkson, of Ghana, and Cardinal Francis Arinze, of Nigeria.
Both men are said to be on the list of contenders to replace Pope Benedict and if either were to be selected, it would be a historic event on par with President Barack Obama's election as the first black president of the U.S.
Can you imagine a black pope? Frankly, we can already envision the Kanye West songs it would inspire.
Cardinal Turkson, Policy Mic notes, is the first Ghanaian cardinal and his somewhat-progressive stance on birth control (okay for married couples) would be a welcome step in the right direction for the Catholic faith.
Cardinal Arinze, meanwhile, is noted to have been a close adviser to Pope John Paul II, one of the more popular popes in recent years.
If you're wondering why two black men are being considered for the top spot in the church, it's because Africa represents a growing segment of the Catholic faith. We do have to wonder, however, how a black pope would play out in Italy, which has wrestled with racism of black public figures in recent years.
What are your thoughts on the next Pope being a black man?
Be the first to receive breaking news alerts and more stories like this by subscribing to our mailing list.