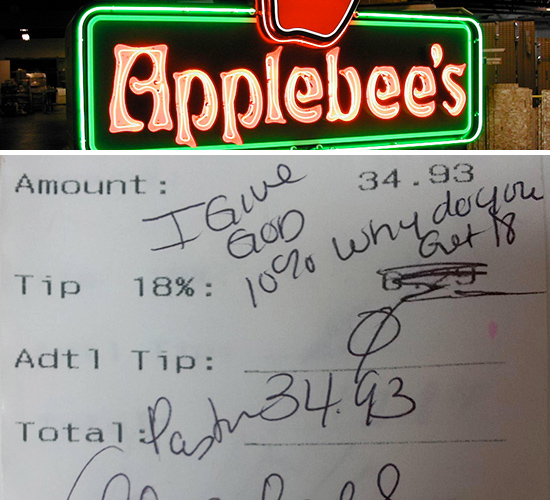 Note to waitresses seeking vengeance via the internet: keep quiet if you want to keep your job. That's the lesson an Applebee's waitress learned the hard way when she posted a pastor's insulting tip on Reddit.
On Tuesday, the waitress uploaded a photo of a tip left for her by a costumer who happened to be a pastor. The woman crossed out the spot on the receipt that suggested an 18% tip and wrote "I give God 10%. Why do you get 18%," leaving no tip on a $34 check.
The image spread like wild fire online and many expressed outrage at her disrespectful action.
Unfortunately for the waitress, Chelsea Welch, her employers weren't amused by her choice to post the image and quickly showed her the door.
According to the Huffington Post, Pastor Alois Bell —  of Truth in the Word Deliverance Ministries church in St. Louis — demanded that the woman be fired.
In a statement released to the outlet, Dan Smith, a spokesman for the chain, said that Welch had violated the costumer's privacy and is now no longer working for the chain.
"Our Guests' personal information – including their meal check – is private, and neither Applebee's nor its franchisees have a right to share this information publicly," he said in a statement. "We value our Guests' trust above all else. Our franchisee has apologized to the Guest and has taken disciplinary action with the Team Member for violating their Guest's right to privacy. This individual is no longer employed by the franchisee."
HuffPo has started a petition to get the woman her job back but if you ask us, the incident is a sign that she should embark on a new career path.
Be the first to receive breaking news alerts and more stories like this by subscribing to our mailing list.