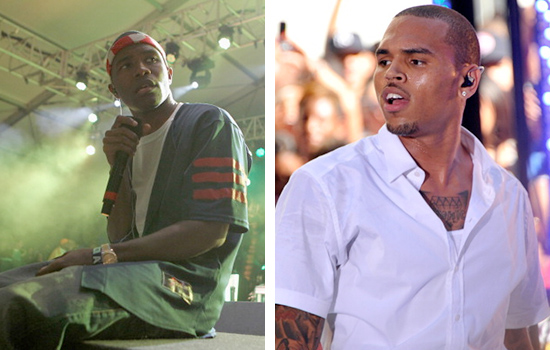 Frank Ocean would like to press charges against Chris Brown for Sunday's parking lot brawl between the two entertainers and their crews that took place outside a West Hollywood recording studio.
Authorities say Chris Brown isn't a "wanted" man, but they do want to talk to not only him, but also Ocean and any other witnesses who were at the scene.
"Chris Brown is a named suspect in a battery report," said Steve Whitmore, spokesman for the Los Angeles county sheriff's department. "The victim is desirous of prosecution.
But just because Frank Ocean would like to pursue charges against Chris Brown, doesn't necessarily mean that Brown will be arrested and charged, which would be a major blow to his 5-year probation (which would end next year if Chris manages to stay out of trouble).
"There could have been some punches thrown. It could have been shoving … [But] it could have been a minor scuffle that was a mutual exchange," Whitmore said. "We have no idea if anybody is going to be officially arrested."
Ocean claimed that he was "jumped by Chris and a couple guys" following a dispute over a parking spot. Brown's people say one of Ocean's friends threw the first punch after Chris went to shake Ocean's hand.
But an "eyewitness" told a different version of the story to TMZ:
According to someone who was on scene, Chris lost his cool in the parking lot of the famous Westlake Recording Studios in L.A. Sunday when Frank refused to shake his hand. We're told Frank simply laughed at the gesture … and Chris was so pissed he coldcocked Ocean and started an all-out war.

The fight quickly moved to the lobby of the studio … and sources say the brawling posses demolished the place –"They managed to break almost everything in the room and scare all of the staff members working" says the witness.
Before police arrived to the scene, all six of the people involved in the parking lot brawl had cleared out, with the exception of Ocean who stuck around to give his side of the story to police, leaving him as the "victim."
Oh, and about that whole parking spot thing:
…the parking situation at the recording studio is a serious hierarchy — with the bigger artists taking the better spots … and it's been that way for years. We're told Chris clearly felt he deserved the top spot … and Frank disrespected him by taking it for himself.
All of this drama … over a damn parking spot?
Be the first to receive breaking news alerts and more stories like this by subscribing to our mailing list.