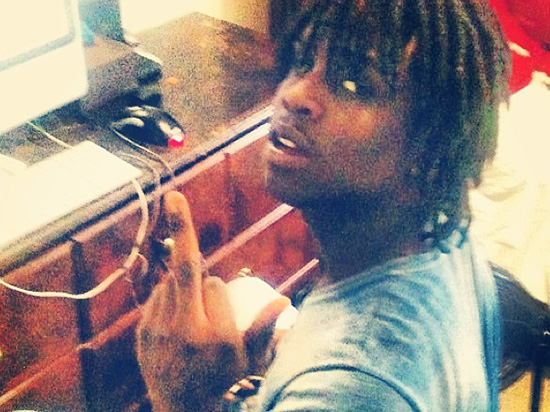 According to the Hip Hop rumor mill, rap newcomer Chief Keef might be getting a pink slip from his record label someday soon … either due to either his extremely low album sales, or his criminal record, or both.
The first week sales for Chief Keef's debut album "Finally Rich" — released December 18th — were extremely poor, with the rapper selling a little over 50,000 copies total.
And in a recent interview, Keef's collaborator 50 Cent supposedly revealed that Keef was already on thin ice with the big wigs over at Interscope for skipping his own video shoot (for their single, also featuring Wiz Khalifa), and now that his has album flopped harder than a dead fish, they might be thinking about letting him go.
Hailing from the rough streets of Chicago, 17-year-old Chief Keef (real name: Keith Cozart) has barely been out for one solid year, but so far, his entire career has marred by controversy since day one.
Even before many knew who he was, Cozart was on house arrest at his grandmother's house — where he recorded the remix for Kanye's version of his hit "I Don't Like" — on a weapons charge for allegedly pulling a gun out on police officers.
Now that he's a budding rap superstar and off house arrest, Cozart no longer lives in Chicago and now resides in Los Angeles, where his handlers believe he'll be able to stay out of trouble.
But in September 2012, another young Chicago rapper, who went by the name "Lil JoJo," was shot and killed, and many believe that Chief Keef had something to do with it.
Before 18-year-old Joseph Coleman was gunned down, he had been entangled in a beef with Chief Keef associate and fellow Chicago rapper Lil Reese. And Keef literally laughed out loud as he took to Twitter to respond about the shooting:
hahahahahhahahahahahahahaahhAAHAHAHAHA #RichNiggaShit

— BigGucciSosa300 (@ChiefKeef) September 5, 2012
Its Sad Cuz Dat Nigga Jojo Wanted To Be Jus Like Us #LMAO

— BigGucciSosa300 (@ChiefKeef) September 5, 2012
A few days later, Keef took to Twitter again, this time to clear his name and deny that he was the one behind the insensitive tweets regarding his rap rival's death with claims that his account was hacked:
my twitter has been hacked I think I'm making a new one dumb hating ass people #DontWannaSeeAYougNiggaShine

— BigGucciSosa300 (@ChiefKeef) September 5, 2012
In a later interview with BET, Lil JoJo's mother openly stated that she believes that Chief Keef paid to have her son murdered.
Though that particular case is currently under investigation, Keef has other legal problems that could potentially affect the future of his career.
In October 2012, prosecutors in Cook County asked a judge to send Keef to juvenile detention for allegedly violating his parole in a video interview with Pitchfork magazine that was eventually removed from their website.
According to reports, prosecutors believe that the promotional interview the rapper conducted in June 2012 at a gun range in New York, where he was seen holding a rifle, is a probation violation because he is banned from having guns, illegal drugs and/or associating himself with gang members.
While it's usually hard for prosecutors to prove the last two, the "having guns" part was actually captured on tape, and they plan on using that against him in court on January 28th 2013.
Cook County prosecutors are also arguing that Chief Keef — a high school drop-out — also didn't get his GED by the August 2012 deadline set in his probation, which is another violation of his parole.
Keef's attorney Dennis Berkson apologized on behalf of the troubled teen for the gun video, acknowledging that it was "stupid," but also arguing that his client shouldn't be blamed because he was listening to advice from adults.
Berkson also apologized for the delay on Chief getting his GED, explaining that the rapper is "working on it," and was in the process of switching tutors because of a recent move to California.
Chief Keef willfully perpetuates the image of a common "thug" and is far from someone who should even be considered a role model for our youth. But if you were expecting a guy named "Chief Keef" to be a role model for anyone, then you're going to be a very disappointed person in life.
Which brings us to our big question:
Should Chief Keef Should Be Dropped From Interscope?
The latest rumor is that the label is thinking about it, but honestly … we don't think that's going to happen anytime soon.
Controversy sells, and even though Keef's debut album wasn't the success everyone had hoped for, Jimmy Iovine and Interscope have already invested so much into him that it wouldn't make sense to throw it all away at this point.
Besides, there are plenty more Chief Keefs out there, and his brand of Hip Hop isn't going anywhere anytime soon.
Be the first to receive breaking news alerts and more stories like this by subscribing to our mailing list.