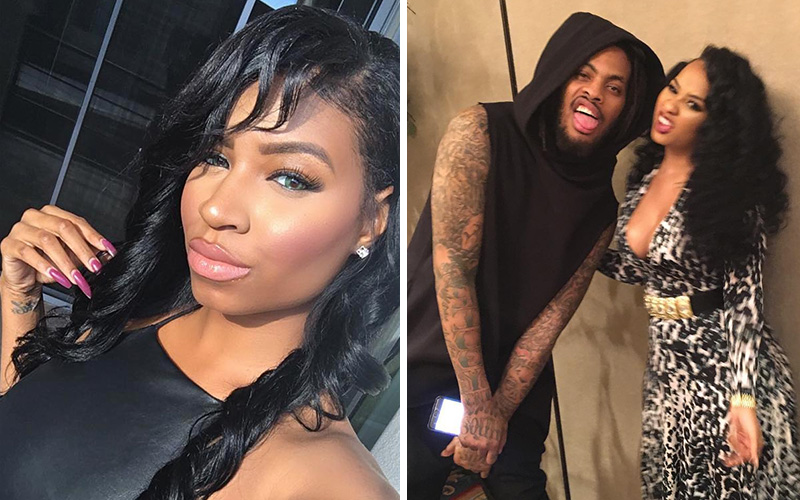 A groupie who dated Chief Keef and claimed to be pregnant by him is saying she's the reason for Tammy Rivera and Waka Flocka's breakup.
Following Tammy's breakup announcement on Instagram, a woman named Simone Patton has come forward and is threatening to leak photos and videos of her and Waka together.
Patton wrote in a now-deleted IG post:
Waka don't force me to post these pics of us in the bed together while Tammy was calling you over and over and you had your phone on the floor. Let's not forget you came at me in the club. You brung me back to the W right in old town. Don't deny sh*t when I have proof. Ask Tammy how I knew she tried FT you over and over and even FT Quam to have him show her "proof" nobody was in the room…You want me to keep going? You want me to post these videos? I'm not the ONLY reason you and Tammy are "on a break" YOU are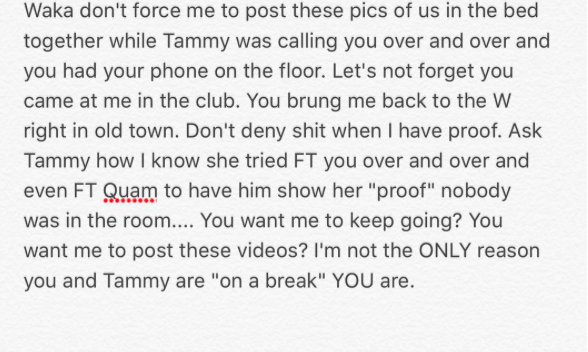 Simone also posted a cryptic message on IG (before deleting it) throwing shade at Tammy.
This isn't the first time Simone has made such claims. Simone, who earlier this year claimed she was pregnant by Chief Keef and then turned around and said she had a miscarriage two weeks later, attempted to air out Waka and Tammy's dirty laundry via social media back in March.
The whole ordeal stemmed from an interview Tammy did with Streetz 94.5, in which she mentioned Simone and another one of Chief Keef's baby mamas, who both had been rumored to be Waka's sidepieces. Tammy also referred to Simone's miscarriage in the interview, and this ultimately struck a nerve with Simone, who didn't hesitate to fire back and declared it war between them.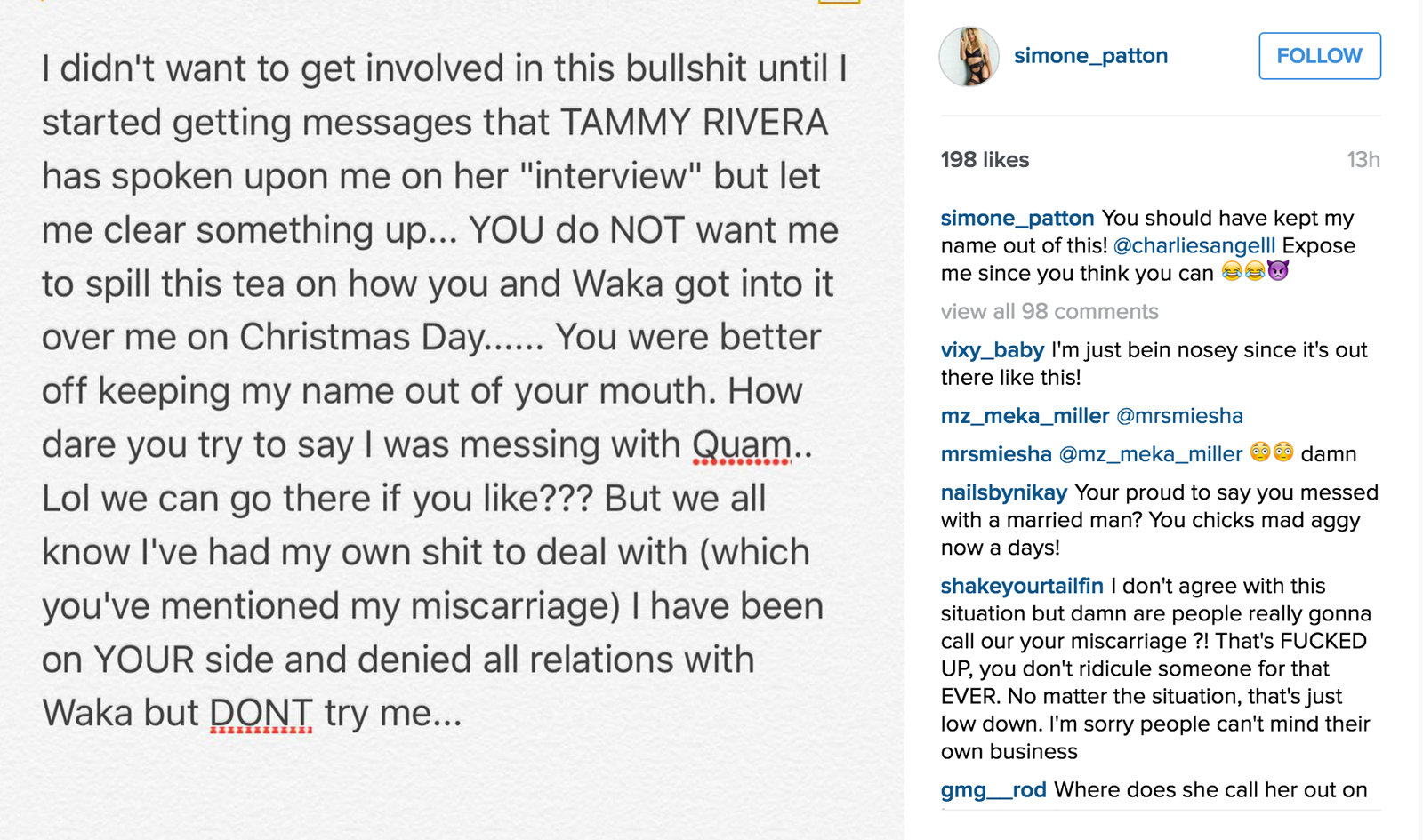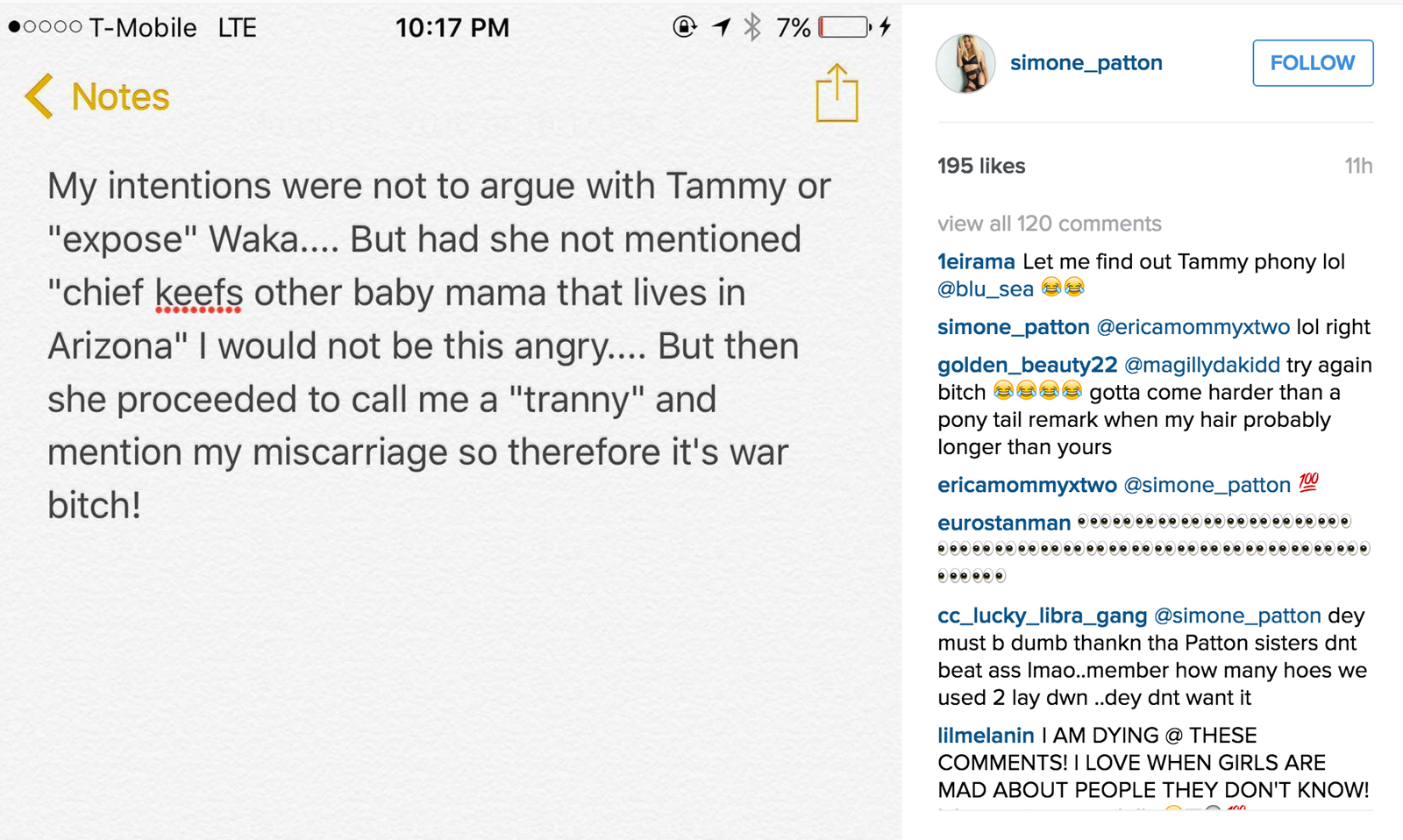 Waka has also responded to Simone's accusations and he's denying that she had anything to do with the breakup. According to Waka, he and Tammy simply grew apart.
Who's side of the story do you believe?
Be the first to receive breaking news alerts and more stories like this by subscribing to our mailing list.