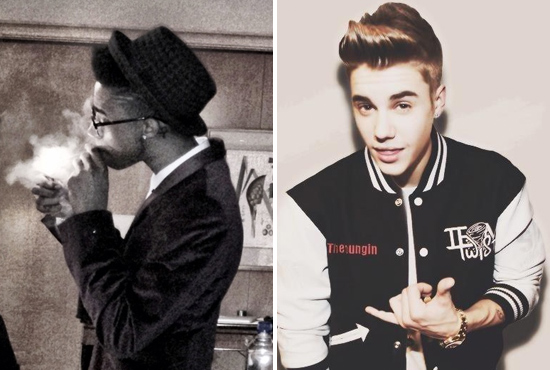 Well, well, well. So now that Justin Bieber has been outted as a weed smoker, it appears that his people are looking to do damage control on the precious little Biebs' brand. So they're pinning it on the bad black kid: Young Money's Lil Twist.
"Sources" (gotta love how the cowards throw the rock and hide their hands) spilled all of their concerns to TMZ, pinning Twist as a "bad influence" on the young Canadian pop star.
Sources involved in Justin's life who care about him are deeply concerned that Twist has become a powerful negative influence in his life and feel very strongly Justin needs a clean break from the rapper or else bad things are going to happen.
Now here's the thing. Twist probably is a little ratchet. But that's PRECISELY what Biebs and his team have chasing after in an attempt to "mature" him.
They've closely aligned him with Hip Hop stars like Drake, Lil Wayne, Nicki Minaj and the rest of the Young Money camp because they knew that he'd be seen as "edgy" if some of YMCMB's street cred rubbed off on him.
So now that a little too much of Young Money has rubbed off, Team Bieber wants to backtrack. No can do, slick.
Truth be told, Lil' Twist should be ashamed that he has nothing better to do than be Justin Bieber's lackey. This kid has been trying to land a breakout hit for the past three years.
If he spent more time grindin' in the studio and less time playing the Robin to Bieber's Batman, maybe he'd be a little farther along in his career.
But, by no means, is Lil Twist the reason Justin Bieber does weed. At all.
Be the first to receive breaking news alerts and more stories like this by subscribing to our mailing list.