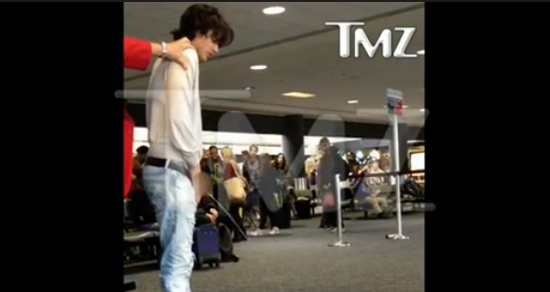 When will celebrities learn not to test the powers of TMZ?
Twilight actor Bronson Pelletier was busted for urinating at an airport terminal in LAX last month, in a seemingly drunken stupor.
TMZ reported the initial bust, but Pelletier — who was arrested and charged with public intoxication — came back and denied the peeing incident
Who is his PR consultant? Lindsay Lohan?
Silly rabbit. Telling bald-faced lies to TMZ is the equivalent of dangling a piece of steak right in front a crouching tiger. You're just asking to get pounced on.
TMZ, as usual, did not disappoint, and has now provided actual video footage to back up its earlier report that Pelletier urinated in public.
Take a look below:
So what does "Pee"-lletier have to say for himself now?
A rep for Pelletier tells TMZ … Bronson realizes he has issues, and will be entering a treatment program for addiction in the near future.
Yup. "Issues" sounds about right.
Be the first to receive breaking news alerts and more stories like this by subscribing to our mailing list.