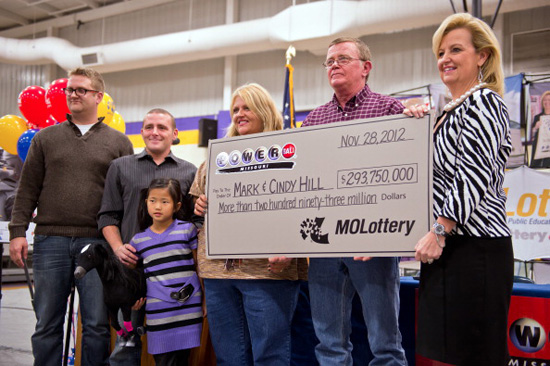 Officials in the states of Missouri and Arizona confirmed that they each had winning tickets for this week's Powerball Lottery jackpot, which was worth a record $588 million dollars.
The Hill family of Dearborn, Missouri — the lucky winners of one half of the half a billion dollar jackpot — appeared at a press conference and were presented with an oversized check made out for their portion of the winnings: $293,750,000.
"We're still stunned by what's happened. It's surreal and people keep asking us, 'What are you going to buy with it?' I just want to go home and be back to normal," 51-year-old Cindy Hill said as she, her husband Mark, their three adult sons and their 6-year-old daughter Jaiden (who was adopted form China) were introduced to the country.
In addition to looking forward to not having to work another day in their natural lives, and of course traveling together as a happy (and rich) family, the Hills plan on starting college funds for their grandchildren and nieces and nephews, as well as starting a scholarship fund at the local high school in Mark's father's name.
Mark also wants to get himself a red Chevy Camero, and the Hills are also considering adopting again, and intend on taking Jaiden to the beach (she's never been to one) and buying her a pony, though Cindy admits, "The pony's not going to be for a while."
Considering the odds of winning the Powerball lottery jackpot — 1 in 175 million — the Hills, who admit that they don't play the lottery often — didn't even think about winning after they purchased $10 worth of tickets at the last minute Wednesday night using the computerized random quick-pick.
In fact, Cindy said she didn't even check the tickets until Thursday morning when it was reported that a winning ticket had been sold in Missouri.
"I didn't have my glasses, and I was thinking, is that the right number? Is that the right number?" Cindy said.
After she realized one of the tickets she bout had the winning combination, Cindy headed straight to her mother-in-law's house and asked her to double-check the numbers.
Mark later joined the women and checked the numbers himself, and that's when they made the trip to meet with lottery officials. The family says they will remain in the small town of Dearborn, which has a population of less than 500 people.
(Fun fact: If the Hills were to give everyone in town an even piece of the earnings, it would work out to close to $400,000 per person!)
So far, no one has come forward to claim the winning ticket that was sold in Arizona, but security camera footage from a gas station in Maryland showed a visibly excited black man in a yellow construction suit jumping up and down and pumping his fists in the air.
ABC News reported:
The man gave the tickets to store manager Nagassi Ghebre, who says the six Powerball numbers were on the ticket, which the apparent winner said he bought in Arizona.

"And then he said, 'I got to get out of here,'" employee Freddie Lopez told WJLA.

But before leaving, the possible winner felt the need to check again to see whether he really had the ticket that millions of Americans dreamed of having.

"He says, 'Is this the right number? I don't know.' And I said, 'Yeah that's the numbers. You got them all,'" customer Paul Gaug told WJLA.

Employees and customers said the main stuck around for a few more seconds shouting, "I won," before leaving.

"He came back a minute later and said, 'I forgot to get my gas. What am I thinking?'" Lopez said.
According to Arizona lottery officials, in order to receive his half of the $580 million jackpot, the man would need to redeem the ticket in Arizona within 180 days.
It's not clear how (or why) the man purchased his ticket all the way in Arizona, but he'd better get his ass back there to collect his winnings!
Be the first to receive breaking news alerts and more stories like this by subscribing to our mailing list.