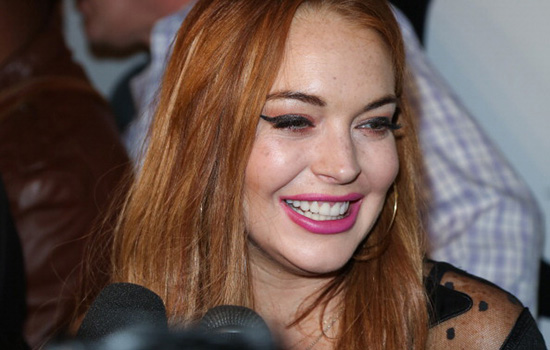 Lindsay Lohan — who just can't seem to stay out of trouble with the law — was arrested early Thursday morning (Nov 29) after she allegedly punched a woman in the face at a New York City nightclub.
According to TMZ, as Linds was being arrested, she yelled to officers:
"Are you kidding me?!? Are you kidding me???"
No, Lindsay. They were NOT kidding you. You punched someone in the effing face!
Here's how TMZ says it all went down:
Our sources say Lohan was at Club Avenue when she got into some sort of argument with a female patron and it became physical.

Law enforcement tells us prior to the fight words were exchanged between Lindsay and the woman as they sat in separate booths near each other. Lindsay said something to the effect of, "Give me my space."

Some time passed and then, for some reason, Lindsay allegedly punched the girl in the left side of her face.
Cops were called to the scene, but by the time they arrived, Lindsay — who attended a Justin Bieber concert earlier in the evening — had left the building and was riding in the passenger seat in a car that was leaving the area. The police stopped the car, told Lindsay to get out, and arrested her on the spot.
She was booked for 3rd degree misdemeanor assault and was released a few hours later.
The woman who Lindsay allegedly punched was identified as 28-year-old Tiffany Eve Mitchell, and she was questioned about the incident and released without any charges.
Lohan is currently on probation stemming from her theft of a $2,500 necklace at a jewelry store last year, and just this past summer, she lied to cops about a car accident she was involved in.
The toxic combination of both incidents could land LiLo behind bars for some time if her probation is revoked.
Be the first to receive breaking news alerts and more stories like this by subscribing to our mailing list.