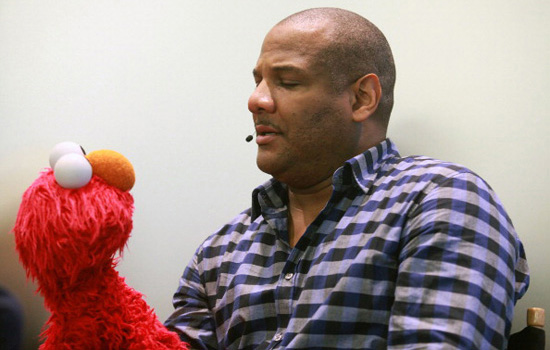 If you thought the whole "Elmo Sex Scandal" thing was over following Kevin Clash's resignation last week (and the revealing of a second accuser), think again.
A third man has now surfaced with yet another lawsuit against Clash that accuses the Elmo voice actor of having sex with him when he was only 16 years old.
This is the part where Jesus weeps, uncontrollably.
In his lawsuit, accuser number three, who is now 29 years old, claims that he was a 16-year-old aspiring model from New Jersey when he met Clash on a gay chat line and then visited his Manhattan apartment over a decade ago back in 2000.
The lawsuit, filed by "John Doe," states that "Kevin Clash gave John (Doe) alcohol and groomed him." The filing also states that the two of them "engaged in sexual contact including oral sex," and also, "this was John's first sexual experience of this type."
According to the accuser's lawyer Jeff Herman, "John Doe" realized Clash — who went by the name "Craig" when they first met online — was older than 30 when he visited him for the first time at his apartment.
The lawsuit also says that Clash called the accuser "incessantly" after their first meeting "to arrange meetings for sexual encounters."
After the accuser graduated high school and moved to New York to pursue his modeling career (after he turned 18), the pair resumed their sexual relationship, and that's when the accuser Googled "Kevin Clash" and found out that his lover was the guy behind elmo's voice.
He says he was tipped off after he saw numerous Elmo dolls, an Emmy award and photos of the famous red puppet posing with celebrities like Tyra Banks and Beyonce in Clash's home.
Though he wishes to remain anonymous, Herman says his client began writing a book in 2009 about his "relationship" with Clash, and he will read a few excerpts from it at a press conference Tuesday (Nov 27) when the lawsuit is formally announced.
This most recent accusation from "John Doe" comes roughly one week after 24-year-old Cecil Singleton, also represented by Herman, filed a lawsuit against Clash, and two weeks after another man, Shelden Stephens, said he had sex with Clash when he was just 16 years old.
The latter recanted his allegations of underage sex with Clash (after apparently accepting a $125,000 cash settlement), but after the former's lawsuit was filed … Stephens recanted his recant, claiming that he was "pressured" into recanting in the first place.
Shortly after Singleton's allegations, Kevin Clash officially resigned from Sesame Street last week, at the urging of the Sesame Street workshop, who said in a statement that the "controversy surrounding Kevin's personal life has become a distraction that none of us want."
Be the first to receive breaking news alerts and more stories like this by subscribing to our mailing list.