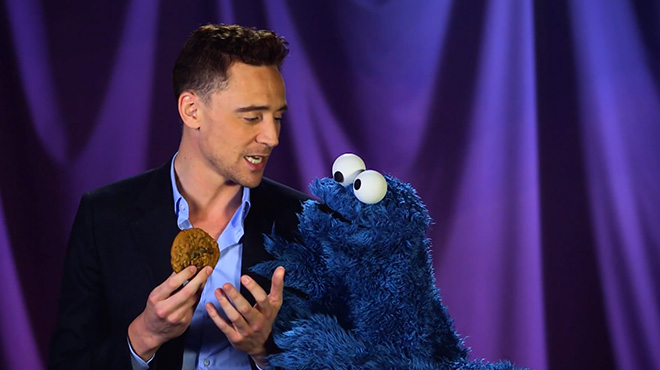 Call us crazy, but there's something irresistibly ironic about Tom Hiddleston explaining the benefits of "delayed gratification."
Despite playing the villainous Loki and sporting some seriously bad hair in "Thor" and "The Avengers," the British-born actor has acquired a doting fan-base.
This probably has something to do with his self-deprecating humor, seemingly polite nature, and, oh yeah, he's totes adorbs. For this reason, his appearance alongside Cookie Monster in a new PBS promo is just too cute for words.
In it, Hiddleston explains to the famed "Sesame Street" character that he should wait to eat a plate of cookies because you can't satisfy every whim and desire you have instantly. A moment later, they both eat the cookies, so we're guessing the vid is more about delayed gratification by only a few seconds.
CHECK IT OUT HERE:
So, what do you think folks? Has this quickie segment taught you the value of self-control or has it shown you that Tom Hiddleston needs to be cloned many times over, preferably snacking on cookies?
Be the first to receive breaking news alerts and more stories like this by subscribing to our mailing list.