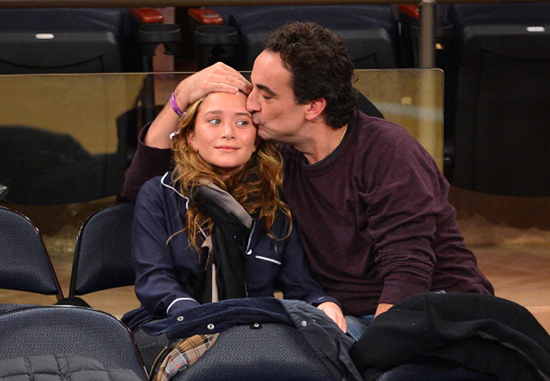 The Creep-o-Meter just went berzerk with this one! Mary-Kate Olsen was photographed on Friday (Nov. 9) at the New York Knicks game in New York City getting cozy (and awkward) with her 42-year-old creeper boyfriend Olivier Sarkozy.
As we all know, the 16-year difference between the 26-year-old actress/fashion designer and Sarkozy, the half-brother of former French President Nicholas Sarkozy, has been much talked about and criticized. And with these pictures, we don't see that coming to a halt any time soon.
Sarkozy is seen giving Olsen a very "grandfatherly" kiss on the side of her head while the look on her Michelle Tanner-like face screams "SOMEONE HELP ME, PLEASE!"
But don't let the look of horror fool you. In a recent interview with WSJ Magazine, the twin vaguely addresses her non-conventional relationship with the millionaire:
"Everyone has an opinion," says Olsen, "I find it's better to focus on what's in front of you and to keep putting one foot in front of the other."
In summation, she couldn't care less about what the public thinks as she moves forward in her relationship. The couple is said to be very happy and according to reports by Us Weekly they have officially moved into a $6.25 million East Village townhouse and are living creepily ever after.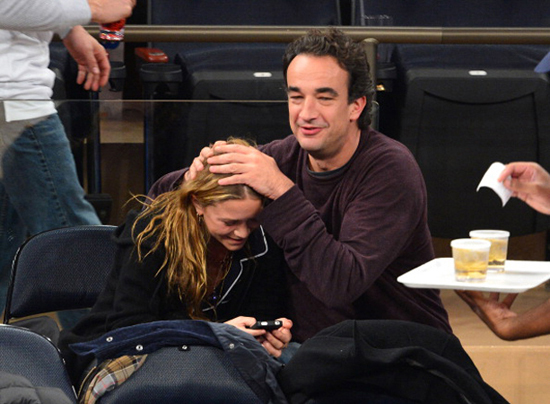 On another note, what happened to this guy's face? And where the fuck are his eyes? He looks like he caught a bad allergic reaction to shellfish and his face just got stuck that way permanently.
Be the first to receive breaking news alerts and more stories like this by subscribing to our mailing list.