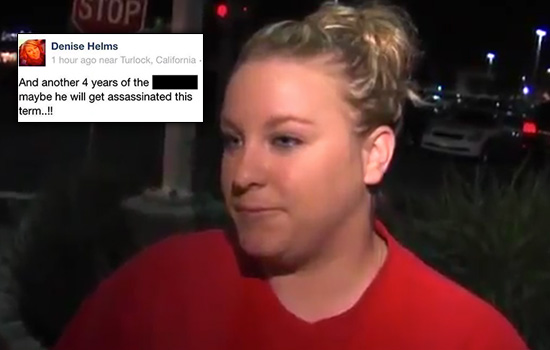 Denise Helms, a 22-year-old woman from California, was fired from her job this week, and is now being investigated by the Secret Service after she posted not only a racist, but also threatening, statement about President Barack Obama to her Facebook page.
Shortly after President Obama's re-election was announced, Helms wrote on Facebook:
"Another 4 years of this Nigger. Maybe he will get assassinated this term."
The woman's racist comment instantly went viral, after her employer found out about it, Helms lost her job at Cold Stone Creamery in Turlock, California.
"We found her comments to be very disgusting, and they do not reflect our opinions here," Turlock Cold Stone Creamery director Chris Kegle told the Modesto Bee. "We never saw anything from her at work like those comments."
Kegle says when he arrived at the store Thursday morning, there were at least 20 or more angry voice mails waiting for him about Helms.
"We made the decision because of her comments, but also the community feedback," he said. "We are very into working with the community and doing community service. So when your community does not like you because of an employee, that's bad. We have a business to run."
Sacramento's Fox 40 News caught up with the racist bitch Helms Wednesday, and asked her how she felt about the situation. Her response was truly unbelievable:
"I didn't think it would be that big of a deal," she said. "The assassination part is kind of harsh. I'm not saying like I would go do that or anything like that, by any means, but if it was to happen, I don't think I'd care one bit."
Helms had deleted her original post, but after discovering she was a viral hit on the Internet once again — this time, for her TV interview — she took to her Facebook to defend herself:
"So apparently my post last night about Obama got onto Twitter and Fox 40 came and interviewed me cause apparently a lot of people in Sacramento think I'm crazy and racist. WOW is all I got to say!! I'm not racist and I'm not crazy. just simply stating my opinion.!!!"
Helms has since deactivated her Facebook account, but that won't stop the Secret Service from coming after her.
Agent Scott Gillingham from the Sacramento, CA Secret Service office said that he would be reviewing the situation, as ALL threats, even perceived threats, are taken seriously and investigated.
If the Secret Service were to determine Helms' threats to be legitimate, she could face a felony under U.S. Code Section 871 of the law, which states:
"Whoever knowingly and willfully deposits for conveyance in the mail or for a delivery from any post office or by any letter carrier any letter, paper, writing, print, missive, or document containing any threat to take the life of, to kidnap, or to inflict bodily harm upon the President of the United States, the President-elect, the Vice President or other officer next in the order of succession to the office of President of the United States, or the Vice President-elect, or knowingly and willfully otherwise makes any such threat against the President, President-elect, Vice President or other officer next in the order of succession to the office of President, or Vice President-elect, shall be fined under this title or imprisoned not more than five years, or both."
A man from Charlotte, North Carolina was arrested back in September after he threatened to kill president Obama in a series of Twitter messages posted the week of the Democratic National Convention, which was held in Charlotte.
The Smoking Gun reported that 21-year-old Donte Jamar Sims was charged in a felony criminal complaint in the U.S. District Court after he admitted to Secret Service Agents that "he hated President Obama" and acknowledged that he "understood what he was doing and that it was wrong."
Sim's tweets were discovered by a Secret Service intelligence specialist, and were published over a 15-minute period.
One post said, "Well Ima Assassinate president Obama this evening !…Gotta get this monkey off my chest while he's in town -_-" while another read, "Ima hit president Obama with that Lee Harvey Oswald swag," an obvious reference to the man who assassinated President John F. Kennedy
Another message claimed that the Secret Service would be "defenseless once I aim the Assault Rifle at Barack's Forehead… F* the #DNC." When a Twitter follower asked Sims if he was serious, he replied, "as a Heart Attack."
Agent Gillingham said that it is common for the Secret Service to receive tips about death threats about government officials on the Internet. "We get a lot of these kinds of referrals, especially off of the Internet," he said.
Denise Helms hasn't been charged with anything yet, and it is isn't clear if she will even be charged at all. She told Fox 40 that she didn't know a simple Facebook post could land her in prison.
"Okay … but what did I do wrong? That's fine if they want to," she told the Fox 40 reporter. "But I don't understand what I did wrong."
Denise just doesn't get it, y'all.
PREVIOUSLY: Stupid, Racist Clinic Worker Fired After Calling President Obama A "Damn Nigger" on Facebook
Be the first to receive breaking news alerts and more stories like this by subscribing to our mailing list.