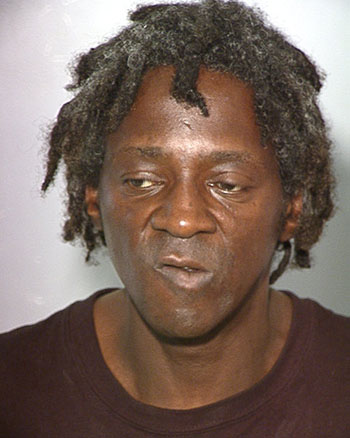 Former rapper and current imbecile Flavor Flav was reportedly arrested early Wednesday morning (Oct 17) in Las Vegas after he allegedly beat up his fiancee, then pulled a knife out on her 17-year-son and chased him around the house with it.
According to Las Vegas police, they were called to Flav and his fiancee's house after the two had gotten into a heated "verbal altercation" over the fiancee's suspicions that Flav was cheating on her.
When police arrived on the scene, Flav (real name: William J. Drayton) and his fiancee Elizabeth Trujillo were still arguing.
The police report states that the initial argument got physical when, according to Trujillo, "Drayton grabbed her by the shoulders, stomach and arms, and threw her to the ground two separate times." Trujillo also said an earring was ripped out of her ear during the incident.
Trujillo's 17-year-old son tells police that after seeing Flav attacked his mom, he began to wrestle with the former Public Enemy in the living room, and at that point, Flav grabbed two kitchen knives and chased the teen around the house, threatening to kill him.
The teenager — who is 6 feet, 175 pounds — added that when he locked himself and his sister inside her room, Drayton — who is 5-foot-6, 131 pounds — kicked the door in and continued his death threats.
The report stated that Flav confirmed Trujillo and her son's stories, but denied chasing the teenager with kitchen knives and threatening to kill him, despite accidentally cutting his finger with one of the knives he was holding.
Flav was booked into the Clark County Detention Center at around 3 a.m. PT on felony assault with a deadly weapon and misdemeanor domestic violence and posted $23,000 bail just before noon.
A quick glance at Flav's Wikipedia, and you'll see that this isn't his first run-in with the law:
In 1991, Flav pled guilty to assaulting his then-girlfriend Karen Ross and served 30 days in jail, lost custody of his children, and sank deeper into addiction.[7]

In 1993, Flav was charged with attempted murder and imprisoned for 90 days for shooting at his neighbor.

Flav was later charged with domestic violence, cocaine and marijuana charges; his family performed an intervention and he checked into the Betty Ford Center for an addiction to crack cocaine.

In 2002, Flav spent nine weeks in Rikers Island jail for driving with a suspended license, numerous parking tickets, and showing up late for appointments with his probation officer.
With a rap sheet (and a gross-looking face) like that, you have to wonder why ANY woman would deem Flavor Flav a suitable person to spend the rest of their life with.
Be the first to receive breaking news alerts and more stories like this by subscribing to our mailing list.