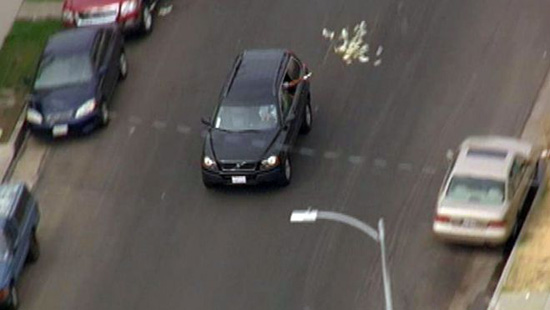 Out of pure desperation, a car full of armed bank robbers leading police on a high-speed chase through downtown Los Angeles started throwing stolen money out the window, drawing a large crowd of people trying to get some quick cash.
According to NBC4 Los Angeles, the pursuit began Wednesday morning (Sep 12) at around 10 a.m. following a Bank of America Robbery, and ended about an hour and a half later in South L.A.
As they were being chased by police, the bank robbers randomly tossed handfuls of cash out of the backseat window of their getaway car — a black Volvo SUV — which drew crowds into the streets.
During the pursuit, onlookers were reportedly waving to the bank robbers, signaling them to throw more money. At one point, the crowd was so thick that the robbers had to slow down and navigate around them, which obviously ruined their plans of actually evading the police.
The 90-minute chase finally came to an end when the SUV was forced to stop because of traffic, and at the end of the pursuit, a large crowd of people swarmed the SUV, creating a dangerous mob that authorities had to work quickly to control as they tried to make arrests.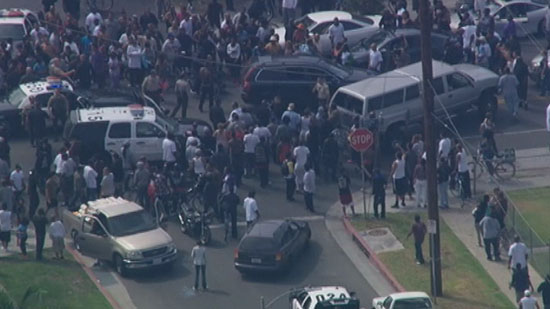 LAPD Cmdr. Andy Smith said, "One of the folks told me that they thought that there was more money inside of the vehicle, and maybe they were hoping to get a little bit of that."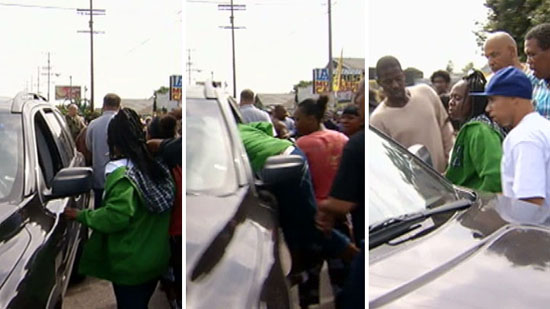 One woman was seen jumping into the vehicle, though it isn't clear whether she retrieved anything.
Witnesses at the scene compared the bank robbers to "Robin Hood" and thanked them for being so generous to the hood.
"I'm just so glad this person came to throw this money in the 'hood, basically. You usually see robbers and they take their stuff and they leave. But this guy came over and tried to help us out. You know, it's a big depression nowadays," a 23-year-old woman told NBCLA. "So It's more like all of us are supporting the robbers and the cops. He's doing something I never though a robber would ever do."
"Kind of like a Robin Hood situation, rob from the rich, give to the poor. Everybody's out to kind of get some of the money," another grateful member of the hood said.
"It's our neighborhood stimulus package!" one resident told the L.A.A Times.
But Capt. Mike Parker of the L.A. County Sheriff's Department doesn't believe the robbers were being intentionally generous, and had no prior plans to make it rain in the streets of the hood.
"They were robbing a bank to steal and keep that money… I can't imagine they did this for the good of the community," he said, adding, "If they thought that by throwing money out the window that that would distract us or have people get in the way and block us, they're going to run out of money … We're not going to run out of sheriff's deputies and we're not going to run out of helicopters."
Sgt. Parker is also urging the people who scooped the stolen money off the street to return it to police, as it could possibly be marked. (Let's be real here, NO ONE of those people are gonna turn ANY of that money in!)
At least two injuries have been reported from the pursuit, including an LAPD officer whose foot was run over, and someone who said they were hit by a police car.
The L.A. County Sheriff's Department estimates that there were four or five suspects — armed with at least one handgun — involved in the bank robbery earlier that day.
In addition to the two suspects that were arrested at the end of the car chase, one person of interest has been detained, and police are still looking for two other suspects who were seen jumping out of the car.
Be the first to receive breaking news alerts and more stories like this by subscribing to our mailing list.