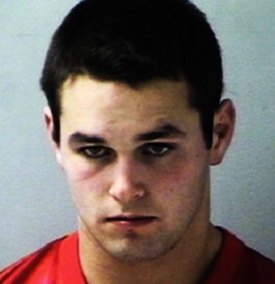 Well, that's one way of performing an assault with a deadly weapon.
Craig McIntire, a 21-year-old student from Miami University in Ohio, had a wild night out drinking over the Labor Day weekend.
And when you drink like a fish, you can often find yourself urinating in public. What goes in, must come out. You know what those scientific cats say.
So there McIntire was draining the weasel, if you will, in an alleyway when police stopped him to let him know, "ain't nobody got time for dat," according to the Elite Daily.
McIntire was not feeling very compliant, so he balked at the officers' intrusion on his potty time and told them to piss off — literally.
He then tried to weeeeee all the way home like one of the little piggies, but eventually police apprehended and arrested the young man.
Drat! Another brilliant escape foiled by the crafty law enforcement types.
But the fun didn't stop there. While he was in police custody, McIntire told a police officer he should pull over so he could "slap him in the face with his penis."
Can you imagine how McIntire's gonna explain that doozy of a line to his mom when he goes home for Thanksgiving break in November?
The police beat from the university's official student newspaper, the Miami Student, sums the entire incident up very nicely:
Around 2:20 a.m. Sunday, an Oxford Police officer observed a male subject urinating in an alleyway near Poplar and High Street.

The officer got out of the cruiser and told the subject, later identified as sophomore Craig McIntire, to stop and zip his pants up. McIntire ignored the officer and continued to urinate.

The officer said he was swaying back and forth while urinating. Once he finished he immediately took off running until falling face first in front of StadiUm Sports Bar & Grille, scraping his forearms.

McIntire struggled with the officer before being handcuffed and taken to OPD. Officers reported McIntire as being heavily intoxicated, unsteady on his feet and uncooperative.

After being processed and charged he was taken to Butler County Jail. During the ride there he told the officer to pull over so he could slap him across the face with his penis.

McIntire was charged with resisting arrest, obstructing official business and public intoxication.
We're gonna go out on a limb here and say that though this threat was rude, the officers were probably not in a ton of danger.
That is unless McIntire is packing like Jonah Falcon. You know, the guy with the 13.5-inch penis? Yeah, getting whopped in the face with that anaconda would definitely hurt.
Be the first to receive breaking news alerts and more stories like this by subscribing to our mailing list.