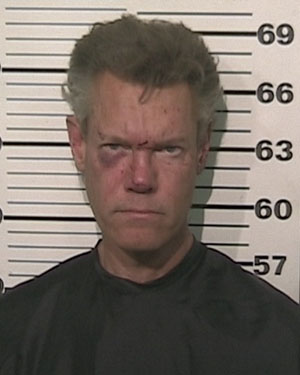 Police say country music singer Randy Travis was naked and very combative when he was busted for DWI Tuesday night in Texas … and he even threatened to shoot and kill the state troopers who arrested him.
According to TMZ, prior to his arrest, Travis was involved in a single car crash, an when troopers arrived at the scene, after responding to a 911 call about a man lying in the roadway, they noticed Travis' 1998 Pontiac Trans Am had driven off the road and crashed into a construction zone.
Police also noticed something else about Randy Travis — he was BUCK NAKED! And Before the DWI arrest, someone called the cops to complain that a naked Travis had walked into a convenience store, and tried to buy some cigarettes.
On the way to jail, Travis — still buck naked — "made threats to shoot and kill the troopers working the case," according to a statement by the Grayson County Sheriff's Office.
Once he arrived, he was given a scrub suit (so that he could take his mugshot), and was booked on a misdemeanor DWI charge and a felony retaliation charge (for threatening the officers). He was released early Wednesday morning, still wearing the scrubs, on $21,500 bond.
Believe it or not … Tuesday's incident marks the singer's second arrest this year alone.
Back in February, Randy was arrested for public intoxication after police found him sitting in his car in front of a church with an open bottle of wine, and reeking of alcohol. Randy told police that he had just gotten into a fight with his girlfriend.
Be the first to receive breaking news alerts and more stories like this by subscribing to our mailing list.