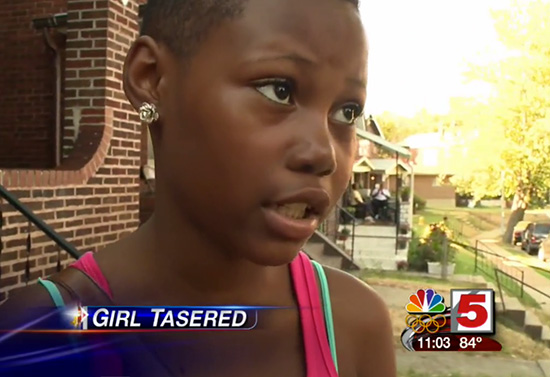 What the f**k?!?
A completely innocent 12-year-old girl was reportedly tazered by a cop inside a Victoria's Secret last Wednesday (Aug 1) at a shopping mall in Missouri.
Police say the officer came into the Victoria's Secret looking for the pre-teen's mom, who had outstanding warrants for her arrest for unpaid traffic tickets, but somehow … it was the little girl who got tazed.
12-year-old Dejamon Baker told KSDK News that she and her mother Charlene Bratton, along with some other relatives, were shopping at the Victoria's Secret at the South County Center mall in St. Louis, MO when they were approached by a St. Louis County officer.
"He said, put your hands behind your back. I said, 'For what?' Next thing you know he tackled me down on the ground," said Bratton, who had just tried on some shorts and was about to purchase them.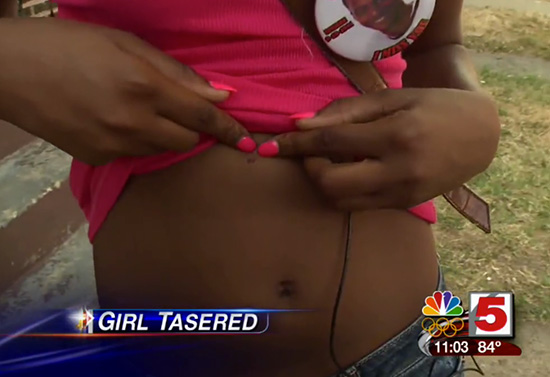 Baker (the little girl) said, "I was just crying. I guess he got mad because I was crying or something, then he just took it out and just tased me … I had fell on the floor and I couldn't control myself I just kept on shaking and stuff."
One of the prongs from the Taser hit her in the chest. "It was stuck in there, so he had to keep on pulling, trying to pull it out," she explained.
A spokesman for the St. Louis PD said that the girl was "physically getting involved and would not back away" … but she and her mother both deny that claim. (Sidenote: Even if she WAS 'physically getting involved' … there are far more better ways to restrain a little girl than TAZING her!)
"[The cop] should have had enough control to tell her to get back instead of pulling out his gun, I guess he was nervous or whatever, and tazing people," Bratton said.
The police spokesman says he believes that the officer was justified, but he admits it's a "unique" situation, KSDK reported.
The mother plans on reporting the incident to internal affairs.
[KSDK]
Be the first to receive breaking news alerts and more stories like this by subscribing to our mailing list.