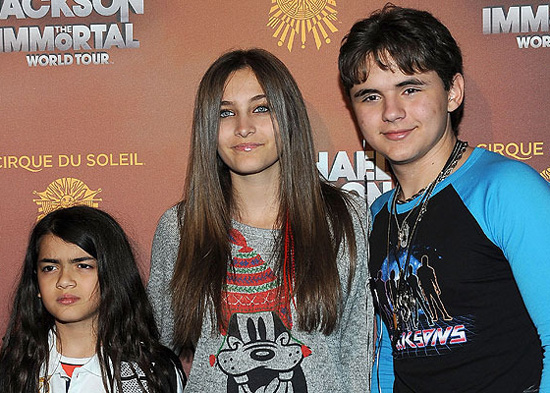 Since she has been the most vocal, many would assume 14-year-old Paris Jackson to be the oldest of Michael Jackson's three children … but it's actually 15-year-old Prince Michael who holds that title, and now he has finally broken his silence on the messy situation the Jackson family has been embroiled in over the past couple of weeks.
Taking to Twitter (taking cues from his little sister, perhaps?), Prince wrote early Thursday morning (Jul 26):
I would first like to start off this tweet by thanking the fans that have always stood by me and my family, my dad really appreciated your support and I still treasure it to this day.

As I am sure everyone is well aware of the events that have been going on. I have been holding off on backing up my sister and her tweets avidly because I was waiting for the time to reveal my side.

As long as I can remember my dad had repeatedly warned me of certain people and their ways. Although I am happy my grandma was returned, after speaking with her I realized how misguided and how badly she was lied to.

I'm really angry and hurt. The following image is of a group chat I had started to several family members. This group text message I had started was replied to but they didn't know that I could see the responses.

For this whole time, they denied us contact to our grandmother. "If you continue with your lies I will continue with the truth"

– Michael Jackson Jr.
The tweet was followed by a screenshot of a group chat between his aunts Rebbie and Janet, and his cousin Austin:
In case you didn't already know … Michael Jackson's entire fortune was left to his mother and his three kids.
And last week, five of MJ's famous siblings — including his brothers Randy and Jermaine, and his sister Janet — requested that attorney John Branca and music executive John McClain be removed from the Michael Jackson Estate on claims of fraudulent behavior.
Randy Jackson and his siblings — who are NOT named in the will — have publicly claimed that Michael Jackson's will is a fraud.
While Branca and McClain claim that Jackson signed his will in California on July 7th 2002, his siblings say that couldn't have possible, because the King of Pop was in New York City that very same day.
The worth of Jackson's estate has grown by many millions since the singer's 2009 death, and though many believe that MJ's siblings are questioning the will just so that they can to get his money, Randy said in a recent interview with Al Sharpton that's not the case.
"This is not about money for us as a family. This is not about being left out of a will or a fight for the children," Randy said. "This family is united to right a wrong. There are questions that need to be answered."
He added, "We feel there is criminal misconduct on their part and that my brother Michael was not where they said he was on the date that he signed the will."
After the Jackson clan's letter questioning the executors of MJ's estate went public, Katherine Jackson was reported missing.
Paris Jackson took to Twitter to speak out about not being able to see or speak with her grandmother in over a week … and it was also speculated that Katherine had been brought to Arizona against her will, a claim Mrs. Jackson later denied.
READ: Janet and Paris Jackson Exchange Slaps and Curse Words; Jermaine Punched in the Mouth; Randy Put in Headlock?
As the friction between the family grew, surveillance footage that went viral on the Internet showed Janet Jackson trying to snatch Paris' cell phone from her hand, and scolding her for airing the family's dirty laundry on Twitter.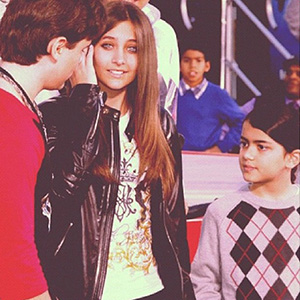 The drama finally came to a head Wednesday (Jul 25), when a California judge revoked Katherine Jackson of her guardianship duties, in favor of T.J. Jackson (Michael Jackson's nephew — Tito's son), who was awarded temporary guardianship of MJ's three children.
Katherine, who has since returned to her home in Calabasas, California, has said that she is "devastated" over losing custody of her grandchildren.
"I am devastated that while I've been away, my grandchildren have been taken away from me," Jackson told ABC News, while also debunking claims that she was held against her will by her children.
"There are rumors going around about me that I have been kidnapped and held against my will. I am here today to let everybody to know that I am fine," she said. "My children would never do a thing to me like that, holding me against my will. It's very stupid for people to think that."
Mrs. Jackson added, "I am grateful for my children that they saw that I needed rest and they wanted to take me away for a while, just a short vacation and rest up."
Be the first to receive breaking news alerts and more stories like this by subscribing to our mailing list.