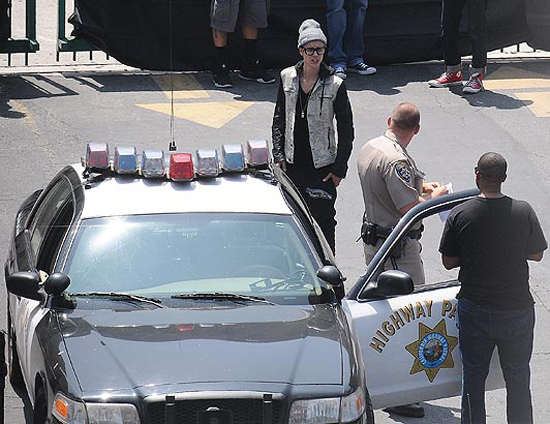 After being cited by Los Angeles police for reckless driving last Friday (Jul 6), Justin Bieber has officially filed a harassment complaint against a paparazzo who he says chased him down the freeway and caused him to reach speeds of over 100 miles per hour.
Bieber says that while there were several photogs tailing him, one paparazzo in particular was so aggressive to the point that he was putting the lives of other drivers in danger, and even rode alongside the shoulder to keep up with the 18-year-old.
PHOTOS: Justin Bieber Pulled Over After High Speed Chase with the Paparazzi in L.A.
As was previously reported, Justin called 911 … and when they arrived on the scene, cops ordered to the photographers to stop chasing Justin, and everyone was sent on their way.
According to TMZ, a California Highway Patrol officer stopped by Justin's music video shoot downtown after the incident, and took his statement.
Justin also cooperated with the authorities by providing them with the pap's license plate number.
And naturally, the accused "rogue" paparazzo — who rode down the shoulder to keep up with Justin as he exceeded 3-digit speeds on a public freeway — was snapping away at the video shoot.
The CHP Officer also reportedly took a statement from the photog, and he is now being investigated for harassment.
Be the first to receive breaking news alerts and more stories like this by subscribing to our mailing list.