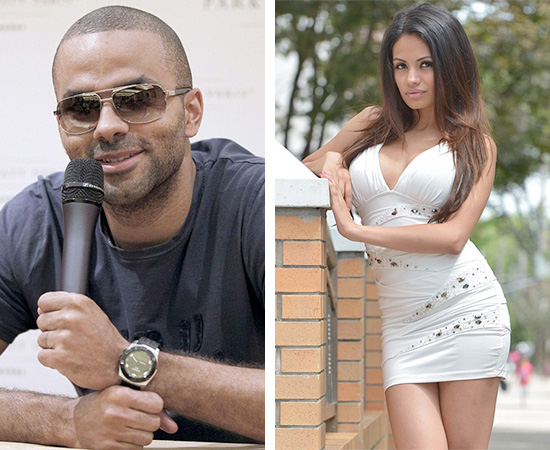 Chris Brown and his bodyguard weren't the only ones injured during last week's bottle-smashing brawl with Drake and his crew at a New York City nightclub.
In addition to Brown (who posted a picture on Twitter of a gash on his chin after the fight) and his bodyguard Big Pat (who sustained a pretty serious head injury) … NBA star Tony Parker and model Ingrid Gutiérrez have come forward to explain how they were also injured in the fight.
Tony Parker, who plays for the San Antonio Spurs, says he was with hanging out Chris Brown when the fight broke out … and when all was said was done, he was left with a scratched cornea after pieces of glass hit him in the eye during the melee.
Wearing dark sunglasses and a "therapeutic" contact lens, Parker described the incident Friday (Jun 15) during a news conference in Paris.
"I was [at the club] with a bunch of friends when a fight broke out. They started throwing bottles everywhere," he said. "I got it all … I don't know what happened. At first it was OK, but then it started getting worse and when the plane landed it was really hurting so I went straight to the ER."
He added, "I was with my friend Chris Brown and me and my friends took some punches, so I'll be missing the start of the French team because I can't do anything for a week except keep the lens in and then take drops."
Parker said that he was lucky that his injury wasn't more serious, and it won't prevent him from competing the Olympics this summer in any way.
He was originally scheduled to join the French Olympic basketball team on Wednesday (Jun 20), but won't be able to due to his injury, which reportedly has him sidelined until the end of this week.
Meanwhile, a 21-year-old model named Ingrid Gutiérrez says she was also hanging out at Chris Brown's table when the fight broke out, and she was injured too.
Her lawyer explained to E! News:
"[Ingrid] was with Chris Brown and his entourage just having a good time…she was at his table…right next to him when this occurred. She was just having a good time, a 21-year-old out, a young lady at a nightclub in Manhattan and all of a sudden a bottle came from [the direction of] the Drake table."

"From what I've heard from my client…there was a note. A note passed by Drake to Chris Brown in regards to something with Rihanna. The contents of those notes at this time I'm not going to be able to reveal because I don't know their authenticity."

"Then…Chris Brown was about to get up and leave with his entourage and that's when a bottle came from [the direction of] Drake's table to Chris Brown's table."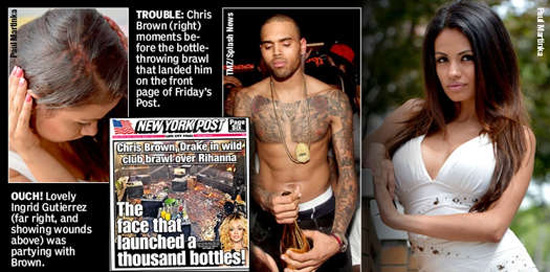 In a separate interview, Ingrid told the New York Post that at one point, Drake and his people people walked over to Chris Brown's table and "got up in his face" and gave him the "middle finger." (Sound familiar?)
"Chris told Drake to f–k off, and the next thing I heard was smashed glass and the bottles started flying at us," Ingrid, a native of Brooklyn, said.
Ingrid added that someone then punched Brown, who was quickly blocked his burly bodyguard Big Pat, who in return, suffered a massive head wound (and had to be rushed to the ER where he got stitched up).
"I didn't see Chris act violently towards anyone," Gutiérrez continued. "Chris said, 'Let's go,' but there were bottles flying and I saw him get hit in the face, so I hunkered down where I was."
Gutierrez was unfortunately caught in the crossfire, and she also suffered a head injury at the club, and was rushed to the hospital for stitches.
"Suddenly I feel this pain in my head and my friend is covering my face, trying to protect me," she added. "And then everything was over. I'm laying bleeding on couch and we're all freaking out."
Gutierrez says that she plans on taking legal action against the club, and according to her attorney Sal Strazzullo, that includes "every person who threw bottles and glass, injuring my client."
"I think Drake's entourage are cowards for throwing bottles at girls," Gutiérrez told the New York Post. "I've lost all respect for Drake. Chris Brown acted like a gentleman to all the girls there. Chris tried to protect me and my friend."
As a result of the nightclub brawl, Sal said that Gutierrez suffered bruises and trauma to her face, and she will most likely have to undergo some sort of plastic surgery (considering the fact that she is a supermodel).
"Basically like any model, your looks are everything and with today's technology, with HD, a small scar, even though this one is not small, is going to be magnified to look really severe," he said.
Sal also shared how Chris Brown responded to the chaos, telling E! New, "[Ingrid] said he was so polite throughout the whole night, that they were just having a good time…he was very calm and what he did, I believe, was he tried to even defend my client Ingrid."
Meanwhile, Ingrid Gutiérrez and Tony Parker weren't the only innocent bystanders who were injured at the nightclub where the fight broke out last Wednesday night (Jun 13).
A 24-year-old Australian tourist who goes by the name of Hollie C. told TMZ that she was just hanging out and having a good time with her friends when the brawl exploded between Chris Brown and Drake's opposing crews.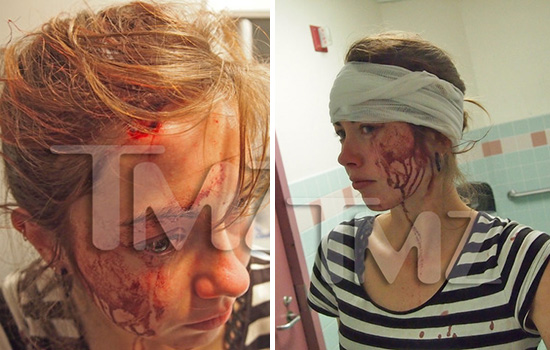 "Within a few moments of noticing glass being thrown around, I saw a glass bottle headed towards me; consequently hitting me in the head," she said. "I immediately started to bleed and proceeded to fall in and out of consciousness."
In the midst of the chaos, she was taken to a local hospital (by herself), where she received 16 stitches to close up the gash on her forehead, and a tetanus shot to prevent any infection. She also said she had filed a police report.
"I had to take the subway home with no money or jacket," she told TMZ. "Nobody would even sit beside me. My friends were so scared because they did not know where I was."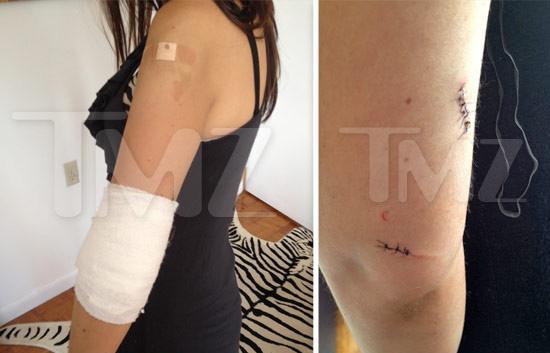 Another victim, Lucy Pavlovsky, says she suffered a huge gash on her arm that reportedly required a dozen stitches … and her lawyer told TMZ that she might be suing all parties responsible, including the club.
To date, Chris Brown and his attorney have both given statements to police, but a spokesperson for Drake said that the rapper has no plans to submit to questioning.
"Why would he turn himself in when he did not commit any wrongdoing?" Drake's rep said. Over the weekend, the NYPD denied reports that Drake was going to be arrested before his concert at Jones Beach Saturday night (Jun 16).
The NYPD is also investigating reported claims that gunshots may have been fired inside the club while bottles were flying between the crews. Some witnesses have told police that they heard gunshots during the fight … but so far, no one has reported seeing a weapon.
And to think … all of this (allegedly) started over Rihanna — one girl! SMDH…
Be the first to receive breaking news alerts and more stories like this by subscribing to our mailing list.