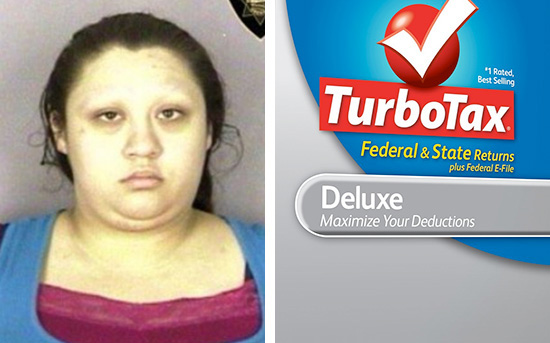 A 25-year-old woman named Krysta Marie Reyes was recently arrested in Salem, Oregon after she stupidly used TurboTax to fraudulently claim a tax refund worth at least $2 million.
According to a police affidavit, Reyes reported $3 million in made-up wages from a fake employer on her 2011 income tax return and claimed $2.1 million in refunds, which, after working its way through TurboTax's automated software, was oddly approved by The Oregon Department of Revenue.
Soon enough, a Visa debit card loaded with the refund was in her hands (as the result of human error, apparently) … and within weeks, Reyes was spending the money like she stole it.
Oh, wait. That's right…
But unfortunately for her … she was caught two months later after she reported ANOTHER state issued debit card lost or stolen, which prompted an investigation.
Yahoo! Finance reported:
What's bizarre about the situation is how Reyes was caught. She reported another debit card as lost or stolen to the issuer, which apparently saw enough red flags to get the state's revenue service on the case. The affidavit doesn't say how much cash was loaded on the second card or whether it was obtained through a fraudulent tax return as well.

When Reyes was taken into custody June 6, she had allegedly spent about $150,000 over a two-month period, including $2,000 on a Dodge Caravan and more than $800 in tires and wheels, according to police. It's not clear from the report where the rest of the cash went, though it says she spent tens of thousands of dollars per week.
Reyes was booked into the Marion County Jail, and was charged with aggravated theft and computer crime. She has since been released, and is due in court on July 5th.
Investigators are calling her tax fraud scam the biggest the state of Oregon has EVER seen, and officials are surprised at how easy it was for Reyes to swindle an entire state out of $2.1 million.
A word of advice though. If you decide to scam the IRS out of $2.1 million, and actually get away with it … at least keep up with your debit cards.
Be the first to receive breaking news alerts and more stories like this by subscribing to our mailing list.