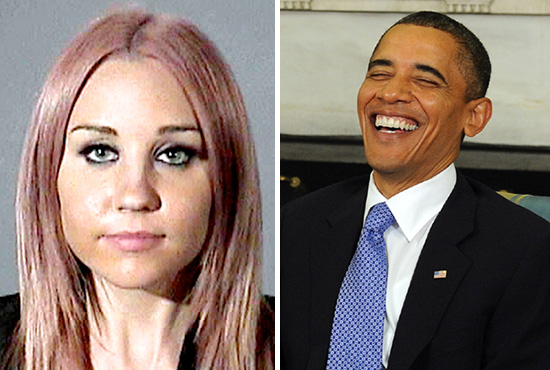 Amanda Bynes was officially charged with DUI Tuesday (Jun 5), and now the 26-year-old actress has turned to a higher power for help … President Barack Obama.
The DUI charge stems from Bynes' April 6th arrest, in which she was accused of sideswiping a police car while attempting to make a right turn on a West Hollywood Rd. She allegedly refused to take a Breathalyzer or drug test at the scene of the accident.
READ: Amanda Bynes' Dad On Her DUI Arrest — "My Daughter Doesn't Drink"

After her court hearing Tuesday, the former Nickelodeon actress made a hilarious attempt to reach out to the President on Twitter:
Hey @BarackObama… I don't drink. Please fire the cop who arrested me. I also don't hit and run. The end.

— Amanda Bynes (@AmandaBynes) June 5, 2012
In her defense, she could be joking (she is a comedic actress, after-all) … but for some reason, something tell us she was dead azz serious!
According to TMZ, Amanda's attorney pleaded "not guilty" to the misdemeanor DUI charge on her behalf in court Wednesday (Jun 6).
If convicted, Bynes could spent at least 48 hours behind bars, and because she allegedly refused both a breathalyzer and a blood test … she could face a harsher sentence of up to six months in jail.
However, with an experienced lawyer, and because of California's overcrowded jails, Amanda Bynes' DUI charge will likely result in just a few hours behind bars. Her pretrial court date has been set for July 18th.
Amanda Bynes was best known for her stint as an actress on Nickelodeon, the TV show "What I Like About You" and her various movie roles.
Now she will forever be known as the fallen child star who asked the President to fire the cop who arrested her after she got caught drinking and driving and side-swiped his car … only, she wasn't drinking, because she doesn't drink, and she also doesn't hit and run.
The end.
Be the first to receive breaking news alerts and more stories like this by subscribing to our mailing list.