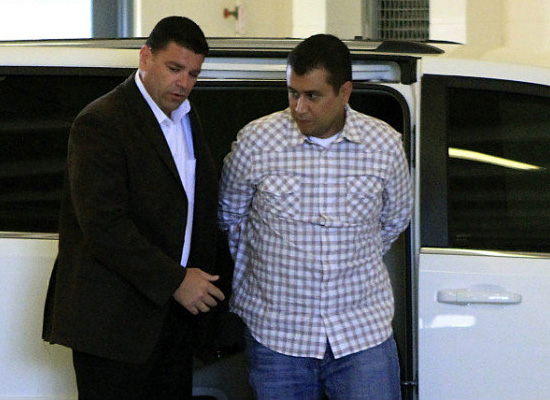 George Zimmerman surrendered himself to police Sunday afternoon (May 3) after the judge presiding over the Trayvon Martin shooting death case revoked his bond earlier in the weekend and gave him 48 hours to turn himself in.
The judge ordered Zimmerman back to jail after the court found out that he had access to at least $135,000 in a Paypal account set up to handle donations for his legal defense, proving that he and his wife were not honest with the court about their finances during an April bond hearing.
Zimmerman, a former neighborhood watch volunteer, is accused of shooting and killing 17-year-old Trayvon Martin (who was unarmed) in a gated community in Sanford, FL back in February.
Zimmerman, who was charged with second-degree murder for the crime, argues that he acted in self-defense.
His lawyer Mark O'Mara announced Zimmerman's return to jail in a blog post, saying that Zimmerman's safety remains a concern, even behind bars.
"We are very concerned about safety still," O'Mara said. "There are ongoing threats and concerns and complaints."
O'Mara also said he will be filing a motion Monday asking the judge for a new bond hearing to revisit Zimmerman's status and allow the defense to "explain why what happened seems to have happened."
According to reports, Zimmerman turned himself in at least 40 minutes before his 2:30 pm deadline, and is now being held without bail at Seminole County's John E. Polk Correctional Facility.
Sheriff Donald Eslinger told reporters that Zimmerman — who will be housed in administrative confinement, for security purporses — was "quiet and cooperative."
Video footage recorded outside the facility shows Zimmerman being peacefully escorted by authorities as he exits a white minivan, wearing handcuffs, jeans and a long-sleeve shirt.
Watch below:
Be the first to receive breaking news alerts and more stories like this by subscribing to our mailing list.