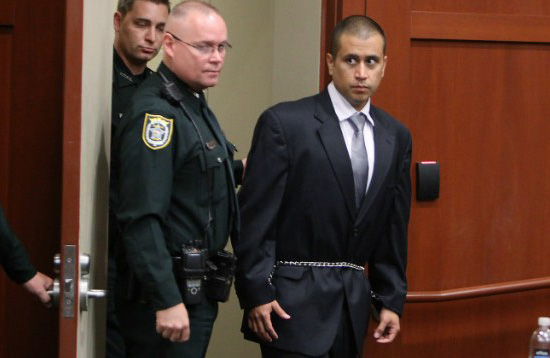 George Zimmerman is going back to jail!
In a totally unexpected new twist, the judge over the Trayvon Martin shooting death case revoked George Zimmerman's bond, and he has 48 hours to turn himself in.
Prosecutors in Florida asked a judge to revoke Zimmerman's bail after they filed a motion that says him and his wife "misled and deceived the court" during a hearing back in April.
The motion accuses Zimmerman and his wife of lying to the judge during the bond hearing about the money they collected for their defense. It also accuses the couple of speaking in code to to hide what they were doing.
Prosecutors allege that Zimmerman's wife knew about the donations her husband received through a publicized Paypal account, but failed to mention the money at his bond hearing.
Zimmerman's attorney later revealed that the Paypal account ultimately collected somewhere around $200,000.
From the Orlando Sentinel:
"Defendant has intentionally deceived the court with the assistance of his wife," the motion says. "During the jail phone calls both of them spoke in code to hide what they were doing."

Prosecutor Bernie de la Rionda told the judge today that "this court was led to believe that they didn't have a single penny" at the earlier bond hearing.

Zimmerman's wife "flat out lied to this court," de la Rionda said. Lester agreed, revoking Zimmerman's bond. He must turn himself in, the judge said.

Argument on the bond issue came after Lester heard argument about whether he should seal key evidence in the case from the public, including the names of witnesses and the statements Zimmerman made to law enforcement.
Lawyers for the state of Florid believe that as punishment for lying about the money, George Zimmerman's wife should be charged with contempt of court, which usually results in a maximum 6-month prison sentence. They are also asking for Zimmerman's bond to be revoked, raised, and for him to be put sent back to jail.
George Zimmerman was charged with second degree murder in the February shooting death of 17-year-old Trayvon Martin. In convicted, he could face a maximum sentence of life in prison.
His trial is scheduled to begin sometime next year.
Be the first to receive breaking news alerts and more stories like this by subscribing to our mailing list.