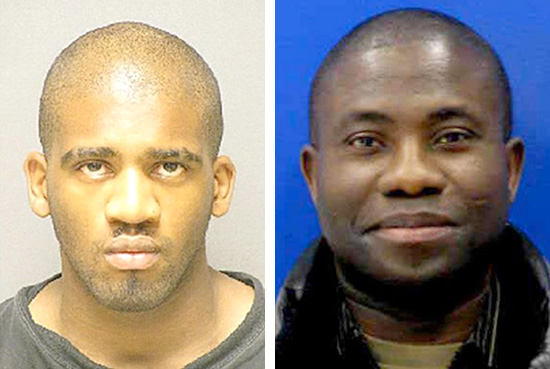 And the "Zombie Apocalypse" continues…
Just days after a man from Miami was caught on camera eating a homeless man's face off in broad daylight comes reports that a Maryland college student did something similar — but much more gruesome — to his roommate.
Authorities say 21-year-old Alexander Kinyua, an engineering student at Morgan State University (pictured above, to the left), admitted to not only killing his roommate … but also to using a knife to chop up his body parts before eating his heart, and parts of his brain.
37-year-old Kujoe Bonsafo Agyei-Kodie had been living with Alexander Kinyua and his family for about six weeks at their townhouse in the Baltimore suburb of Joppatowne.
Kodie was reported missing last Friday (May 25) after he apparently left the home for an early morning jog, and never came back. He had left his wallet, cell phone and ID at home.
The following Tuesday, Kinyua's father called police when Kinyua's brother told him he had found a set human remains — a head and two hands — in a metal tin in the basement.
CNN reported:
According to the charging document, the other son explained to the detective how he had come across two metal tins covered by a blanket in the basement laundry room of Agyei-Kodie's Joppatowne residence. He opened the tins and found the head and hands.

The brother said he "confronted (Alexander Kinyua), who denied the remains were human," then went upstairs to get his father, the detective said in the charging document. When the father and son returned to the basement, "the items he observed were gone and … Alex Kinyua was cleaning the container he observed them in."

Two Harford County detectives later arrived on the scene and discovered the head and hands on the home's main floor.

"He admitted to killing our missing person, Mr. Kodie, and cutting him up with a knife," Harford County Sheriff Jesse Bane told reporters Thursday. "He further stated that he consumed Mr. Kodie's internal organs — specifically his heart and portions of his brain."

The suspect told detectives to go to the parking lot of the nearby Town Baptist Church, where they could — and did — find the rest of Agyei-Kodie's remains in a dumpster.
Authorities have said this is one of the most brutal and bizarre killings they have ever witnessed.
"I've been with the agency 40 years, and I would say this is the first time I can remember … where someone was placed under arrest in Harford County and as a part of his crime he consumed the victim," Sheriff Jesse Bane told the Baltimore Sun.
Though Kinyua confessed to the brutal murder, police say they have yet to establish a motive, though posts from Kinyua to his Facebook page suggest that he had become increasingly troubled in recent months.
In January, he was kicked out of the ROTC program after an outburst, and in May, he was arrested after he allegedly fractured a classmate's skull with a baseball bat. He was arrested on May 20th, was released on $220,000 bail, according to reports.
One student who knew Kinyua said that the other students thought he was strange, and was "always in his own little world."
As for the victim, the missing person's report described Kujoe Bonsafo Agyei-Kodie as "very intelligent," having earned multiple master's degrees from schools in his home country of Ghana. He was also a graduate student at Morgan State, but wasn't taking classes at the time of his death.
Alexander Kinyua — aka the "Maryland Cannibal" — is being held without bond on first degree murder charge.
READ: Miami Cannibal May Have Been Under Voodoo Spell While Eating Man's Face
The Maryland attack comes just days after a man in Miami — dubbed the "Miami Cannibal" — chewed off 80% of another man's face alongside a busy highway, and wouldn't stop until an officer shot him to death. Witnesses say 31-year-old Rudy Eugene growled like an animal as he ate the 65-year-old Ronald Poppo's face.
Police believe Rudy Eugene was high on a dangerous new drug called "bath salts," the street name for the drug that is considered a replacement for cocaine or a synthetic form of the hallucinogen LSD.
Be the first to receive breaking news alerts and more stories like this by subscribing to our mailing list.