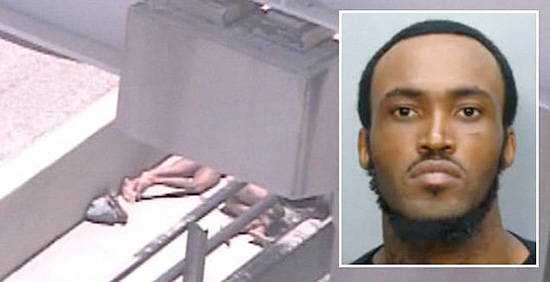 Miami police have released the first photo of the naked homeless man who was shot and killed in Miami yesterday after he chewed another man's face off.
31-year-old Rudy Eugene, pictured here in an old police mugshot, was shot dead by Miami police following a gruesome attack in which he used his teeth to rip pieces of flesh from his victim's face and head.
His victim, another naked homeless man, is currently in serious condition at a hospital suffering from "some of the worst injuries staff had ever encountered."
According to rescue crews who rushed the unidentified victim to nearby Jackson Memorial Hospital, at least 75 percent of his face was missing, including an eye, his ears and lips.
Miami Police say the attacker likely overdosed on what they believe is a new, more potent form of LSD.
"What's happening is whenever we see that a person has taken all of his clothes off and has become violent, it's indicative of this excited delirium that's caused by overdose of drugs," said Armando Aguilar of the Miami Fraternal Order of Police. "What's happening is, inside their body their organs are burning up alive."
Larry Vega, who witnessed the horrific attack first-hand, described to WSVN-TV exactly what he saw: a savage naked man chewing off the face of another naked man.
"And the guy was like tearing him to pieces with his mouth, so I told him, 'Get off!' You know it's like the guy just kept eating the other guy away, like ripping his skin," Vega said.
After witnessing what he described as a scene straight from a horror movie, Vega says he managed to flag down a Miami police officer.
"Police officer came over, told him several times to get off, and a police officer climbed over the divider and got in front of him and said, 'Get off!' And told him several times and the guy just stood his head up like that with a piece of flesh in his mouth and growled."
When the grisly attack continued, Vega says the officer shot the man, but he continued to chew on the victim's face, which at this point, was halfway eaten off.
Vega says the officer fired several more times — at least half a dozen, according to other witnesses — eventually killing the naked attacker.
Surveillance video footage from a Miami Herald security camera captured the aftermath as the two homeless men lay naked, side-by-side on the ground.
"It was just a blob of blood," said Vega. "You couldn't really see, it was just blood all over the place.
"It was one of the most gruesome things I have ever seen in my life in person. You know, you see these things in the movies but when you see it in person, it's pretty traumatic."
Traumatic can't even properly describe an incident in which a naked man chewed another man's face 70-80% off.
Your thoughts?
Be the first to receive breaking news alerts and more stories like this by subscribing to our mailing list.