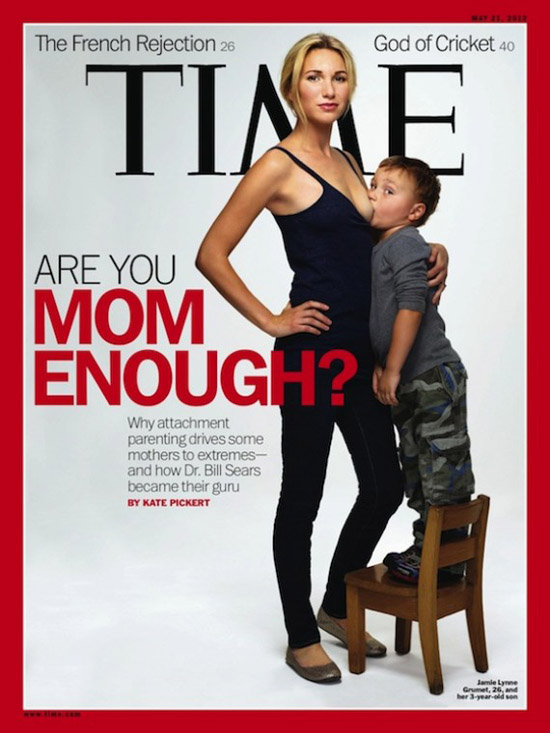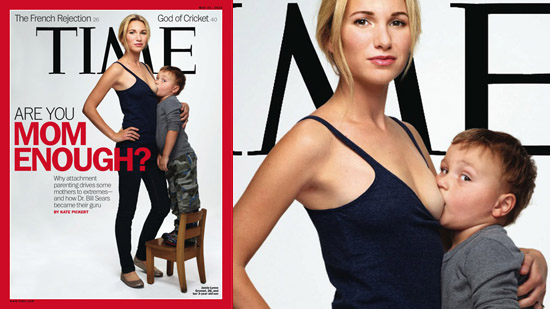 Time Magazine thought it would be pretty cool to put a picture of a real, 3-year-old boy standing on a chair with his mom's boob in his mouth on the cover of their nationally syndicated magazine for an issue on "attachment parenting."
So they did it … and here it is!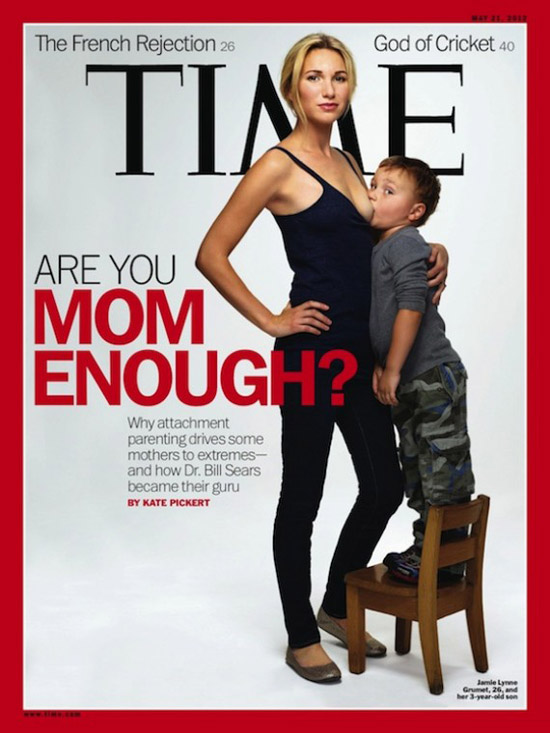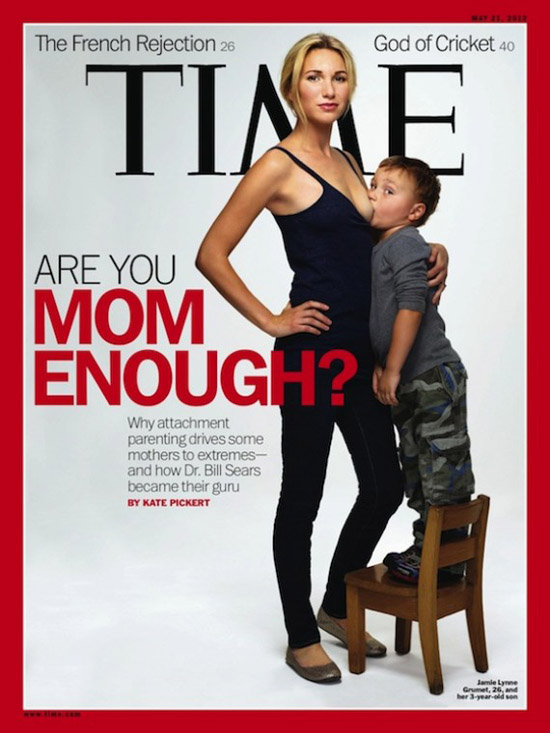 From Time.com:
The subjects on this week's TIME cover aren't models in pose. Jamie Lynne Grumet, photographed by Martin Schoeller with her 3-year-old son, is a mother from Los Angeles who subscribes to attachment parenting, the subject of staff writer Kate Pickert's cover story.

Attachment parenting has been on the rise over the past two decades, since the publication of "The Baby Book" by Dr. William "Bill" Sears and his wife Martha in 1992. Its three main tenets are extended breast-feeding, co-sleeping and "baby wearing," in which infants are physically attached to their parents by slings.
Martin Schoeller says he spent an entire day photographing four different women from various parts of the country who practice this odd method of motherhood.
"When you think of breast-feeding, you think of mothers holding their children, which was impossible with some of these older kids," Schoeller explained. "I liked the idea of having the kids standing up to underline the point that this was an uncommon situation."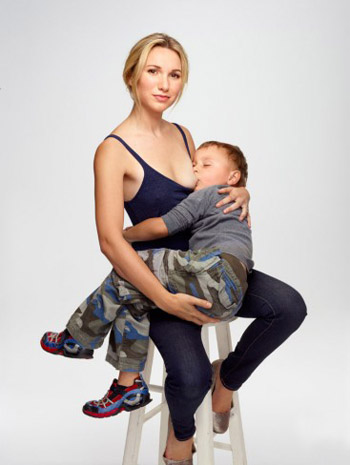 Jamie Grumet from Los Angeles says she isn't ashamed that she still breastfeeds her 3-year-old son, who will turn four next month and will still continue to be breastfed. "I don't consider breast-feeding immodest at all. I'm not shy about doing it in public."
Jamie also has a 5-year-old (adopted) son of a different race who she breastfeeds as well. "I know so many amazing women who have induced their lactation, but I had milk [from feeding my biological son], so I had one of the easier situations as far as adoptive breast-feeding is concerned," she said, "but it was considered extended breast-feeding. And it was transracial. And he was adopted. I was ready for attack as soon as I posted one of the pictures [on my blog]."
Grumet says she and her sister — who also practices attachment parenting — were breastfed up until she was six years old, and she still remembers how she felt when she drank milk from her mother's teet over 2 decades ago.
"It's really warm," she recalled. "It's like embracing your mother, like a hug. You feel comforted, nurtured and really, really loved. I had so much self-confidence as a child, and I know it's from that. I never felt like she would ever leave me. I felt that security."
She said, "I grew up this way and never thought about raising my kids differently."
Dionna Ford, who lives in Kansas City, Missouri, says when she was pregnant, she watched a video of a British woman breast-feeding her 7-year-old daughter, and she thought she could never do the same … until she found out how hard it was to wean her son off breast milk.
"After six months, I decided I'd wait until he turned 1," she said. "But after my baby turned a year old, he was still a baby — not talking, barely walking — and I wondered why I'd stop now."
Dionna's son is now 4-years-old and she not only breastfeeds him, but she also breastfeeds her 5-month-old son.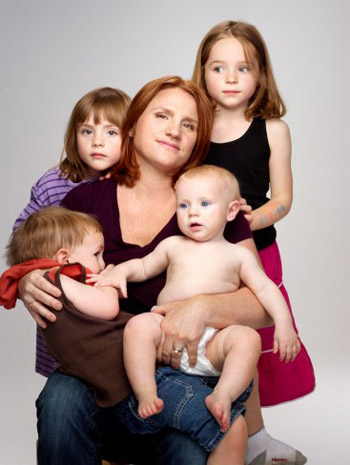 For Brooklyn, New York native Jessica Cary — who still breastfeeds her 3-year-old daughter — she says attachment parenting is a way of life. "I don't think about when I'll stop. For us, it's a life philosophy."
Melinda Larson from Long Island, New York breastfeeds all four of her children, aged 6, 4, 2 and 1/2 and 9 months. "The philosophy resonated with us, and it felt comfortable. Other forms of parenting felt like I wasn't in my own skin."
Not only capturing photographs of attached parents, but also their reasons for attachment parenting, was Schoeller's biggest goal for this very … "interesting" photo shoot.
"It was important to show that there's no stereotypical look for a mom who practices this kind of parenting," he said.
There's no doubt about it that not only this magazine cover — but the ENTIRE pictorial feature — is shocking, but…
What are your thoughts on this whole "attachment parenting" thing? Are these women out of their minds or what?
Be the first to receive breaking news alerts and more stories like this by subscribing to our mailing list.