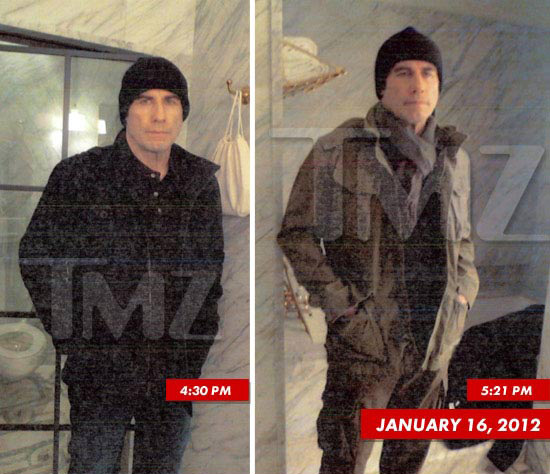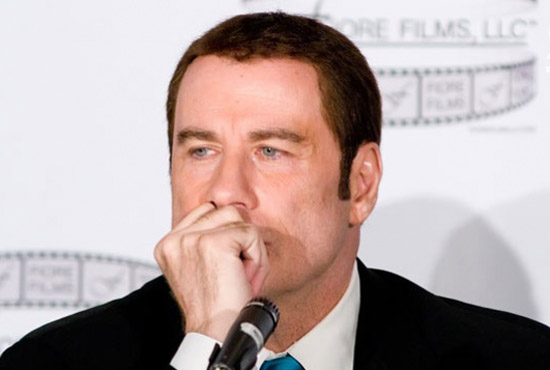 John Travolta's acting career and reputation are in serious jeopardy after two different male masseurs — one from Los Angeles, the other from Atlanta — filed federal lawsuits as "John Doe #1" and "John Doe #2" accusing the "Grease" star of sexually harassing them during what were supposed to be routine massage sessions.
The L.A. masseur (John Doe #1) says a "semi-erect" Travolta sexually assaulted him by rubbing on his leg, then touching his scrotum and the shaft of his penis during the second hour of a $200/hr, two-hour massage at the luxurious Beverly Hills Hotel.
"Come on dude, I'll jerk you off!!!" Travolta allegedly told the masseur.
READ: John Travolta Accused of Sexually Assaulting TWO Different Male Masseurs
The masseur says when he declined Travolta's offer, the 58-year-old actor masturbated in front of him instead, allegedly telling him that "Hollywood is controlled by homosexual Jewish men who expect favors in return for sexual activity," and he got to where he was due to "sexual favors" he performed throughout his career.
But according to official flight records obtained by TMZ, John Travolta wasn't even in Los Angeles the day the masseur claims he was sexually assaulted by the actor.
In fact, Travolta had flown to New York the night before, and the flight records show that Travolta left L.A. at around 8:30 pm on January 15th 2012, and landed at shortly before 4 am the next morning in New York.
The masseur claims that the "sexual assault" happened at the Beverly Hills Hotel at 10am on January 16th 2012 … but based on Travolta's flight records, he was almost 2,500 miles away in New York City at the time.
TMZ also obtained photo proof which validates Travolta's claims that he was nowhere near L.A. at the time of the alleged sexual assault.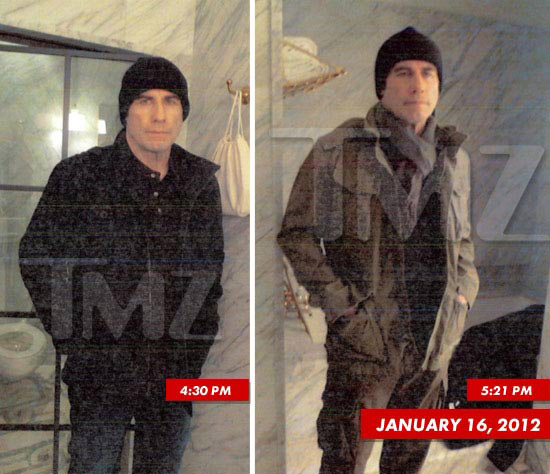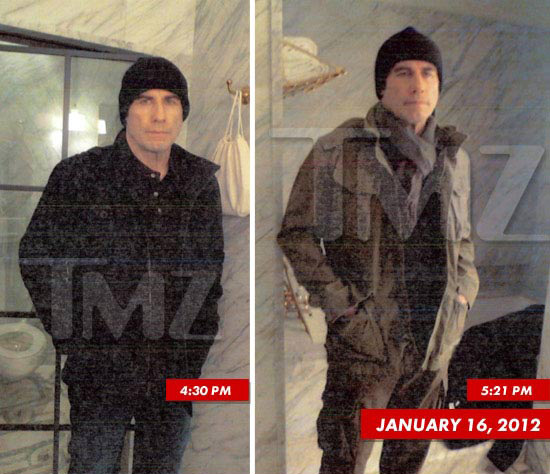 Denise Wingate — the costume designer who took and sent in the photos of the actor while he was staying at the Greenwich Hotel in NYC on the 16th of the January — told TMZ that she and four other people were in Travolta's New York suite with him almost the entire day, and any notion that he was in Beverly Hills on the 16th is "absolutely absurd."
To further prove his case, Travolta also had his people send TMZ a restaurant receipt dated January 16th 2012 from a meal the actor ate at Mr. Chow in New York City.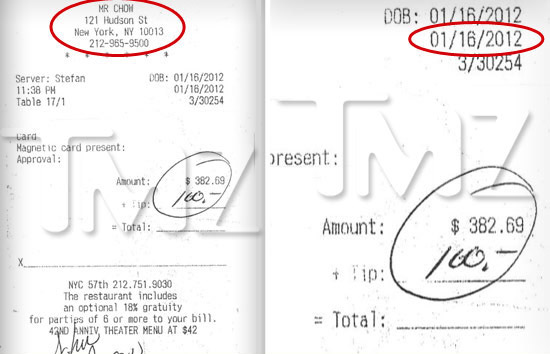 The bill totaled $382 and the tip was $100 — the kind of generous tip for which Travolta is known. We've confirmed Travolta ate the meal at Mr. Chow.
Another masseur (John Doe #2) filed a lawsuit this week claiming that John Travolta fondled him during a massage session on January 28th at a 5-star hotel in downtown Atlanta.
As the message came to an end, the lawsuit claims:
"Travolta suddenly turned on his stomach with his legs wide open with a full erection. He then tried to force Doe Plaintiff No. 2's hand on Travolta's scrotum. Then, Travolta started to grab, rub and caress Doe Plaintiff no. 2's upper thighs and buttocks.

"Travolta still had an erection and wanted his abdominals done, but Travolta's erection was in the way, and he refused to have his penis covered by a sheet of a pillow case cover…Travolta started masturbating about 15 minutes left in the session, and Doe Plaintiff No.2, said he had to go."
Okorie Okorocha, the same California attorney handling the case from the first accuser, is handling the second case also.
Travolta's high-powered attorney Marty Singer is vehemently denying both alleged assaults, and is calling the lawsuits "absurd and ridiculous."
But Okorocha says John Doe #2 has proof that the incident in Atlanta actually occurred. He told Radar Online:
"The day this happened, my client notified his superiors and management at the hotel about what had happened to him while he was in John Travolta's hotel room. There are MULTIPLE e-mails to document this, which will obviously be a big part of our case as we proceed. The fact that he sent these e-mails on the day this occurred will only bolster our case.

"My client also spoke with multiple members of management at the hotel, so there are many witnesses that will be called as well. Obviously, my client had never had anything like this happen to him before and he was extremely shaken up. He is still working at the resort though and wants to keep his job."
According to the second accuser's lawsuit, after the alleged attack, Travolta went down to the front desk of the hotel resort's spa, and demanded that the alleged victim return to his room to finish his job.
"Travolta went down to the spa that Plaintiff No. 2 worked at, which is part of the resort Travolta was staying at, as opposed to having Doe Plaintiff No. 2 go to his room. Travolta DEMANDED that Doe Plaintiff No. 2 come back and do it again and he refused," court documents state.
Okorocha asserts, "The employee that dealt with Travolta when he came down to the spa looking for my client will also be a material witness in the case."
At the time of the alleged attack, Travolta was in Atlanta shooting a movie with Robert De Niro, something Travolta's attorneys suggest "John Doe #2" used to help corroborate his story.
"Before the attorney for the two anonymous plaintiffs filed the claim on behalf of the second person who refuses to disclose his identity although required to do so, it is obvious that he checked media reports that my client was in Atlanta working on a movie," Travolta's legal team said in a statement. "However, the claim by Doe #2 is just as fabricated as the claim by Doe #1. Our client will be fully vindicated in court on both of these absurd and fictional claims."
John Travolta has been married to actress Kelly Preston since 1991. Their oldest child, Jett, died in 2009 while the family was on vacation in the Bahamas. The couple have two other children: a daughter named Ella Bleu and their son Benjamin, who was born in 2010.
Both of the male masseurs accusing Travolta of sexually assaulting them are seeking $2 million in damages and a jury trial, and Okorocha says that both of his clients are ready to face off against the actor in court.
"I'm the real deal," Okorocha told CNN. "He stepped into the ring with a gorilla. I am relentless."
Your thoughts?
Be the first to receive breaking news alerts and more stories like this by subscribing to our mailing list.