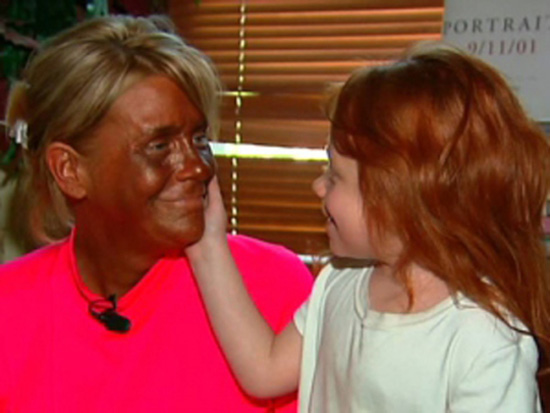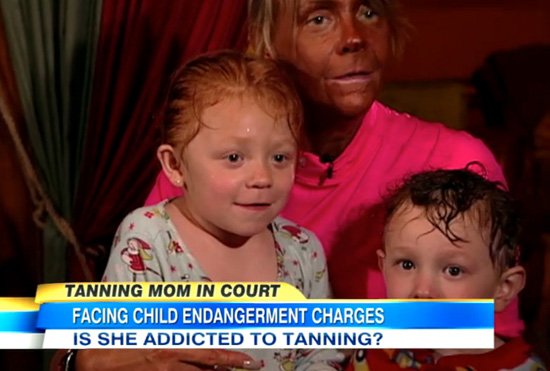 An excessively tanned woman from New Jersey is facing child endangerment charges after she allegedly took her 5-year-old daughter to a tanning booth, and allowed the little girl to get a tan.
44-year-old Patricia Krentcil — known as the "tanning mom" — was arrested after her daughter allegedly suffered burns at a tanning salon.
She denies the child endangerment charges, but if convicted, she could face up to 10 years behind bars, where the only tanning she will get is from the prison yard.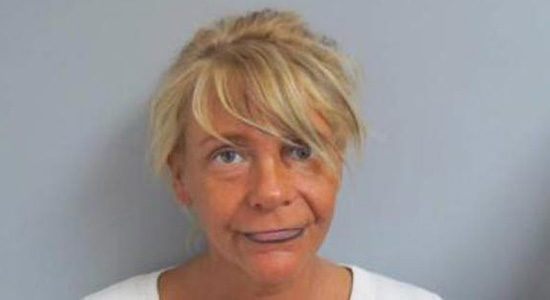 According to ABC News, child protective services in New Jersey intervened after a tip from the nurse at Patricia's daughter Anna's school who noticed she had a rash. The little girl said that she had been burned after going tanning with her mother.
But Patricia says that Anna was sunburned from a day spent gardening, and not from a tanning bed.
Her husband Richard Krentcil also said that Anna never entered a tanning bed, and media reports saying so are not true.
"They wrote the story saying Patricia took her into the tanning booth, [that] they were tanning together," he said. "Totally false."
The owner of City Tropics tanning salon in Nutley, NJ here Patricia regularly gets her tanning fix says she pays a flat fee of about $100 per month for "unlimited" tanning sessions, and she tans for about 12 minutes, 5 days a week. Every week. (That's 20 times a month!)
New York dermatologist Joshua Zeichner explained the situation and Patrica's addiction — known as "tanorexia" — to the New York Daily News:
"Going to a tanning salon 20 times a month, frankly, is insane, especially with all of the public education and awareness campaigns on the dangers of tanning beds and skin cancers. It may be she has an addiction to tanning, which actually now has a name — tanorexia. She may need help to treat not only the damage to her skin, but also what is going on with her psychologically."
Another New York dermatologist, Dr. Doris Day, had this to say about Patricia:
"When you look at this, this is somebody who has a problem who most likely has a condition called 'tanorexia,' where they just don't realize just how much color they have. She's at higher risk for skin cancer, and it also doesn't send the right message to her child."
Patricia doesn't believe she's addicted to tanning, but most addicts don't believe they ever have a problem.
Her attorney John. D. Caruso doesn't think she's addicted to tanning either.
"Obviously, she tans," Caruso said. "To call her an addict, I think is a real leap. It feels like it's being exaggerated, to be like, 'Well look at her, she must have done this.'"
So going to a tanning salon 20 times a month (over 200 times yearly) is not addictive behavior? Okay … Whatever.
Watch the video report from ABC News below:
Be the first to receive breaking news alerts and more stories like this by subscribing to our mailing list.