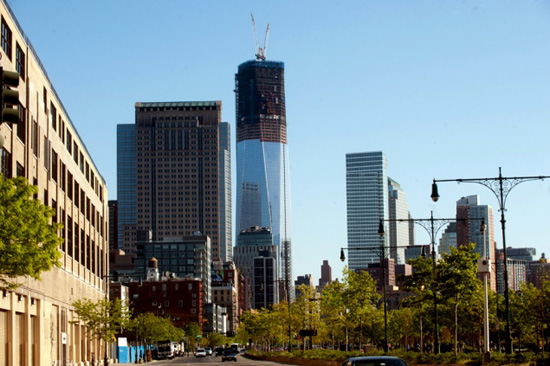 After years and years of construction, One World Trade Center officially surpassed the 1,250-foot Empire State Building Monday (Apr 30) as the tallest structure in New York City.
The $3.9 billion construction project began six years ago, and it stands on the site of the original World Trade Centers — aka the "Twin Towers" — that were the tallest buildings in the city (and among the tallest worldwide) before they were destroyed in the September 11th 2001 terrorist attacks.
When construction on OWTC is complete, the final height of the building will be 1,368 feet, with the antenna spire pushing the structure to a towering height of 1,776 feet, making it over 400 feet taller than the twin towers it has replaced.
According to the New York Daily News, once completed, the Ground Zero skyscraper — nicknamed the "Freedom Tower" — will also boast 104 floors, including 71 floors with 3 million square feet of office space.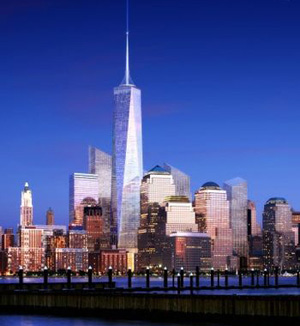 The 1,776 foot height will also make the tower the third-tallest building in the world, and the largest building in the United States, surpassing Chicago's 1,451-foot Willis Tower (formerly Sears Tower).
The Burj Khalifa skyscraper in Dubai, which stands at a height of nearly 3,000 feet, is currently the world's tallest building.
Even though construction will not be complete on One World Trade Center until late 2013 or early 2014, the Port Authority says over half of the office space has been filled.
"It's wonderful," Mayor Bloomberg said Sunday. "It's taken a long time. This is probably the most complex construction site in any place ever. I think what we've shown is that democracy works."
Even though only four more floors are left to be built, Mayor Bloomberg says the finishing touches will take years, due to workers making sure the building is being safely constructed.
"Incidentally, once this building tops out, there's still a lot of work before people can move in, a couple of years," Bloomberg said. "The most important thing is that they get the building up safely. We don't need any more lives lost. So far, their safety record has been exemplary."
Be the first to receive breaking news alerts and more stories like this by subscribing to our mailing list.