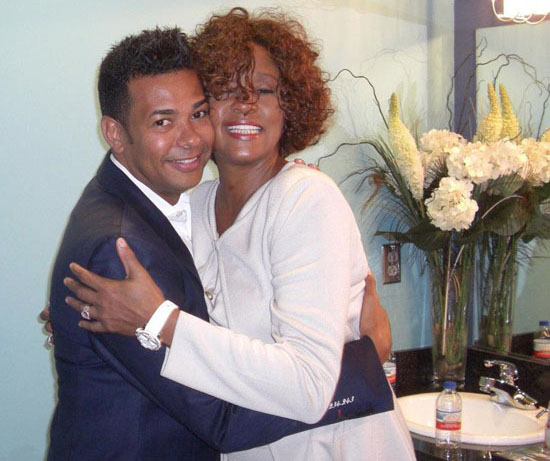 In addition to being a Hollywood conman, Raffles van Exel — if that's even his real name — is also a "celebrity drug supplier," and recently admitted to ridding Whitney Houston's hotel room of illegal drugs shortly after her February 11th death.
After the L.A. County Coroner's Officer confirmed last week that cocaine played a major role in the death of Whitney Houston, and that she has also consumed cocaine shortly before she drowned in the bathtub, many were confused as to how that could have even been possible if investigators found no drugs in her hotel room.
Well, that's where "Raffles van Exel" — who considers himself to be a former "close confidant" to Whitney Houston — comes in.
According to a loose translation of Dutch newspaper The Telegraph, "Raffles van Exel" came forward just four days after Houston's death, and admitted that he cleaned up her Beverly Hilton hotel suite, though he didn't specify what he exactly removed from the scene.
"The room had to be emptied," van Exel confessed to The Telegraph on February 15th. "Someone had to do it."
Here is a loose translation of the full article (via HSK):
Raffles van Exel (32), the Dutch confidant (support) of the deceased Whitney Houston, pulled out all the goodies left behind by the deceased singer from the hotel. "Someone had to do it," Raffles told the Telegraph. "The room had to be emptied." The house friend of Whitney comes from Deventer, and had been friends with her for a long time. He is also the main support to the bereaved relatives. "We are going through a very tough (rough) time."

Whitney's ex, Bobby Brown, is quite upset. Raffles must comfort him regularly. "Things are going well with now". "I'm with him". (Can also be translated as: "Now that I'm with him he is doing well".

The Deventer (The person from Deventer a town in Holland, i.e.; Raffles) was also at the infamous parties last week where Whitney was completely over the top because she thought that her young love was flirting with a younger girl. Raffles had to drag the singer outside (the party). "Now she's dead." "I try to sleep, but I cannot."
As we previously reported, "Raffles van Exel" is not only a Hollywood conman who conveniently pops up and gets close to celebrities in their time of need, but he also rips off celebrity websites too.
READ: Raffles van Exel Ripped Off TMZ With Fake Whitney Houston Picture
He sold TMZ a series of photos showing Whitney's hotel room shortly after her death, and one of the photos, purportedly showing her body being removed from the building under a white sheet, was actually of her 19-year-old daughter Bobbi Kristina, who was rushed to the hospital twice after her mom died.
"Raffles van Exel" is also the person behind the infamous "Whitney Houston Casket Photo" that was sold to the National Enquirer, and according to sources, is also the man who supplied Whitney Houston with the drugs that contributed to her death.
A man who says he intends to file an affidavit against the man known as "Raffles van Exel" with the Beverly Hills Police Department revealed the following to DiaryOfAHollywoodStreetKing.com:
"Raffles always enters the country illegally. The first time he was deported was 13 years ago after being arrested in Chicago for shoplifting. Raffles has been deported at least 6 times now.

Raffles comes into your life when your down. He latched onto Michael during the molestation trial. He got Whitney during her depression.

Raffles served no purpose except being the drug supplier in these celebrity camps which he infiltrated with lies. Pat and Gary new what Raffles' role was, yet they still allowed him to remove all evidence from the room before paramedics and police arrived.

Pat and Gary also new that Raffles had taken and sold the photos (gurney and tub) to the tabloids well before they invited him to fly on Tyler Perry's private jet as Whitney's body was flown home."
So, in other words, "Raffles van Exel" supplied Whitney Houston with the drugs that ultimately killed her and conveniently "cleaned up" the scene of the crime before authorities arrived.
Sound familiar? It should, because "Dr." Conrad Murray is serving time in jail right now for doing something similar to Michael Jackson in 2009.
Could "Raffles van Exel" become the next Conrad Murray?
Be the first to receive breaking news alerts and more stories like this by subscribing to our mailing list.