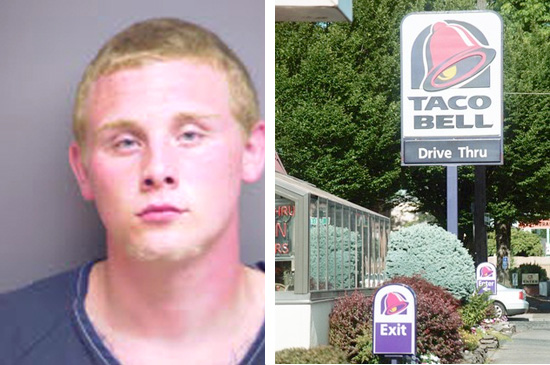 18-year-old Taco Bell employee Joshua Fisher reportedly snapped when he was told by his manager to start taking customer orders at the fast food restaurant's the drive-thru.
TheSmokingGun.com reports:
According to witness affidavits, Fisher was supposed to be handling orders at a Taco Bell in Palmetto, but "wasn't doing what he should have been doing."

As "the drive through line was backed up," his manager told him to start doing his job. When this request was not met with action, the boss walked around Fisher and began taking the orders himself.

This, according to Fisher's coworkers, set the employee off. First, he allegedly threatened to "snap" his manager's neck. Then he began throwing condiment holders, utensils, a headset, and a box of pizza (that struck co-workers).

One Taco Bell employee noted in her affidavit that, "this is not his first temper problem."
Due to Fisher's insane outburst, the restaurant had to be shut down for nearly an hour in order to clear up the mess that he made in the kitchen area.
Fisher was later booked at Manatee County jail for criminal damage and misdemeanor battery.
His arraignment will be in circuit court on April 19, and he remains locked up on $1250 bond.
No more "Doritos Locos" for this crazy guy.
Be the first to receive breaking news alerts and more stories like this by subscribing to our mailing list.