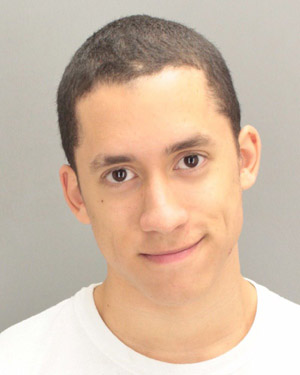 Police in Coral Springs, FL say they arrested a man who allegedly took a young woman out to lunch at Applebee's while his friend robbed her home.
According to police, 18-year-old Anthony Maldanado met Kelly Galbraith at a party. Using the alias "Florenciano Valentino," the young man asked his new lady friend out on a date after telling her that he had just moved to Florida from New York a couple of months ago.
Throughout the date the following week, Valentino reportedly used the girl's cell phone to talk to his accomplice, who was robbing Galbraith blind as they spoke.
And to top it all off … he left her to pay the bill, and also stole her phone!
When the girl returned home from the "lunch date," she found her home broken into, and several high-value electronic items missing (about $5,000 worth). She called police right away.
Among the items taken included a flat screen TV, an iPad and a macbook.
Anthony Maldanado (or "Florenciano Valentino," as he likes to call himself) was later arrested on charges of burglary and grand theft. He bonded out of Miami-Dade County Jail for $4,500.
So he not only robbed this girl … but he also skipped out on the bill?
What a cheap date! The bill was probably only 20 bucks, especially with the 2 for 20 deal going on.
If you ask us, the girl was probably in on it, trying to get a little insurance check or something if you know what we mean… Because she can't be that naive, can she?
What do you think?
Be the first to receive breaking news alerts and more stories like this by subscribing to our mailing list.