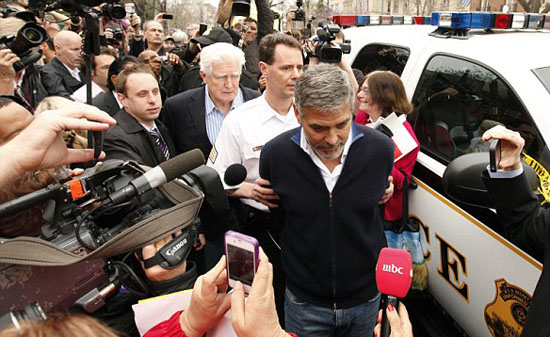 A group of about a dozen or so protesters — including actor George Clooney — were arrested early Friday (Mar 16) during an illegal protest at the Sudanese Embassy in Washington, D.C.
According to CNN, the arrested protestors included congressmen, human rights activists and faith leaders.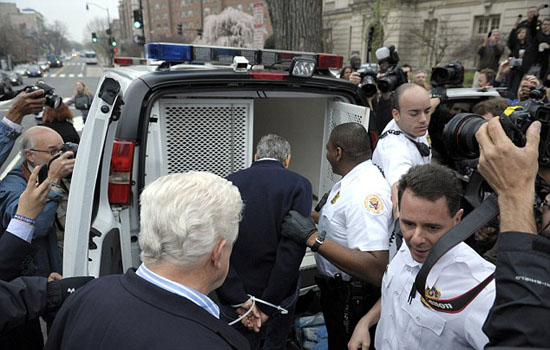 Clooney, along with his dad Nick and the other demonstrators, were peacefully arrested by the uniformed division of the U.S. Secret Service at around 11:45 am for crossing police lines, a misdemeanor offense.
Clooney was booked into a D.C. police station and he bailed out for a measly $100 (pocket change for this guy) a couple of hours later.
Sources close to the actor say that he feels good about the arrest because it puts an ever bigger spotlight on the crisis.
The other notable protestors who were arrested included United to End Genocide President Tom Andrews; Democratic Reps. Jim McGovern, Al Green, Jim Moran and John Olver; Martin Luther King III; and NAACP President Ben Jealous.
Moments before his arrest, Clooney, who was leading the protest, explained why he and the other protestors were demonstrating outside the Sudanese Embassy:
"We are here really to ask two very simple questions. The first question is something immediate — and immediately, we need humanitarian aid to be allowed into the Sudan before it becomes the worst humanitarian crisis in the world.

"[The second] is for the government in Khartoum to stop randomly killing its own innocent men, women and children. Stop raping them and stop starving them. That's all we ask."
Watch the video footage from the arrest (and check out the pics) below:
Your thoughts?
Be the first to receive breaking news alerts and more stories like this by subscribing to our mailing list.