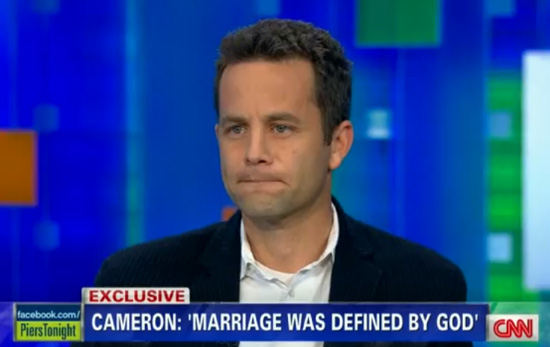 Kirk Cameron is facing a ton of backlash after he made some controversial comments against homosexuality and gay marriage last week.
In an interview with Pierce Morgan that aired on CNN last Friday (Mar 2), the actor-turned-evangelist said that he "doesn't support the idea" of gay marriage and homosexuality, calling them both "unnatural, detrimental and ultimately destructive to so many of the foundations of civilization."
Asked if he would tell his children that gay marriage is a sin, Cameron answered, "I would tell my children what I believe myself and, er… I believe that marriage was defined by God, a long time ago, marriage is almost as old as dirt and was defined in the garden between Adam and Eve, one man, one woman, for life."
He added, "I would never attempt to redefine marriage and I don't think anyone else should either."
In the days since his interview, Cameron has come under for his comments about homosexuality.
Among the celebrities who condemned Kirk Cameron for his remarks was actress Tracey Gold, who played his sister Carol Seaver on "Growing Pains." She tweeted:
"I am a strong supporter of the #LGBT Community, and I believe in equal rights for all. #NOH8 #LOVE"
Kirk's TV dad Alan Thicke also spoke out against him on Twitter:
"I'll address kirk's comments as soon as I recover from rush limbaugh's. I'm getting him some new books. The Old Testament simply can't be expected to explain everything."
GLAAD (The Gay & Lesbian Alliance Against Defamation) also fired back at Kirk Cameron over his comments.
"In this interview, Kirk Cameron sounds even more dated than his 1980s TV character," said Herndon Graddick, senior director of programs at GLAAD. "Cameron is out of step with a growing majority of Americans, particularly people of faith who believe that their gay and lesbian brothers and sisters should be loved and accepted based on their character and not condemned because of their sexual orientation."
Your thoughts?
Be the first to receive breaking news alerts and more stories like this by subscribing to our mailing list.