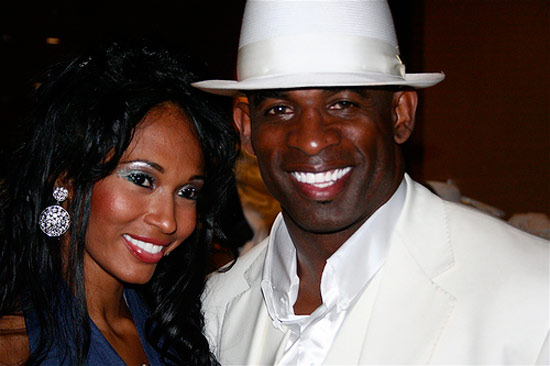 The divorce battle between Pilar and Deion Sanders is starting to get real nasty!
Just weeks after Deion's daughter called out Pilar for being a cheating, money-hungry whore…….Pilar has filed court documents claiming her estranged husband has cheated on her numerous times, should be evaluated for personality disorder, and needs a parenting coach to be a better father. (Well damn!)
In the docs, obtained by TMZ, Pilar states her husband of 12 years "has been guilty of unkind, uncaring, insensitive, cruel and unusual treatment of [Pilar] … as well as physical, mental and emotional abuse of [Pilar] and the parties' children."

Pilar says the divorce should be granted on grounds of "mental, emotional and physical abandonment."

Pilar adds, "[Deion] committed numerous acts of adultery … on numerous occasions throughout the marriage." Just to be clear, she adds, "[Deion] voluntarily had sexual intercourse with others who were not his spouse."

It gets nastier … she adds, "[Deion] is a bully" … who "suffers from a narcissistic personality disorder, needs a full psychological evaluation."

In the docs, filed today in Texas, Pilar claims Deion also needs a parenting coach to teach him how to be a better father.

Now, on to the money — Pilar claims the judge should throw out their prenup … and award Pilar a lion's share of the estate … because she feels she was duped into signing the deal while under duress.

In the docs, Pilar requests sole legal custody of the couple's three mutual children … claiming Deion is a bad, absentee father.

Pilar is also asking for exclusive access to the couple's mega-mansion in Texas … meaning she wants Deion to finally pack his stuff and get out.

[TMZ]
Pilar must want Deion and his daughter to know "two can play that game." Wonder if Tameka Raymond has been giving her pointers???
Be the first to receive breaking news alerts and more stories like this by subscribing to our mailing list.