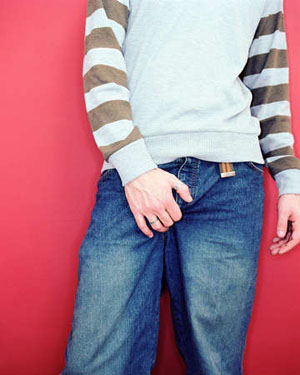 A 21-year-old Iranian man who recently got a tattoo on his penis has now been left with a "permanent semi-erection," according to MSNBC News.
The man apparently thought it would be a pretty good idea to get a penis tattoo in Perisian script reading "borrow be salaamat," which means "good luck on your journeys," as well as the first initial of his girlfriend's last name ("M").
So what exactly happened during (or after) the procedure that made the guy have a permanent semi-erection?
According to the Iranian doctors, this is what happened to the young man.

The tattooist punctured too-deep holes that damaged vessels in the penis, resulting in fistulas, and then a pseudoaneurysm, a pooling of blood outside a vessel wall.

They recommended he see a specialist to have the blood removed, but he rejected that idea and saw another doctor to have a shunt procedure performed. It didn't work.

Since the fellow is still able to have sex, and achieve a more-or-less normal erection, he's rejected any more treatments, even the one his urologists recommended in the first place.

In one of those statements you'd think nobody would actually have to make, the Iranian doctors wrote "based on our unique case, we discourage penile tattooing."

[MSNBC]
Uhh … no shit?
Just in case you're curious, CLICK HERE for the actual photo of the penis tattoo, which obviously is NOT SAFE FOR WORK!
Be the first to receive breaking news alerts and more stories like this by subscribing to our mailing list.