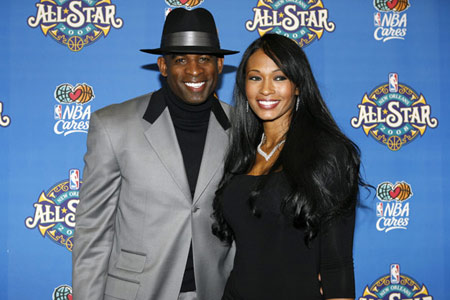 Pilar Sanders is denying allegations that she cheated on her estranged husband Deion Sanders.
Last month, Deion's 19 year-old daughter Deiondra went on a Twitter rant accusing Pilar of infidelity and being a money-greedy whore.
Well, naturally, Pilar has had enough … and with the help of her lawyer, has suggested that she and Deion take a lie-detector test to prove her side of the story!
Her attorney Larry Friedman tells TMZ:
"It is extremely unfortunate that, in addition to the mental distress caused by the unexpected and untimely filing of the divorce by Deion Sanders, he has not stopped his daughter Deiondra from falsely accusing my client, Pilar Sanders, of infidelity in order to cause her more pain and suffering and further damage her character and reputation."

Friedman adds, "This matter doesn't require praying for Pilar as Deion has stated; it calls for telling the 'truth' — as well as a retraction of the false accusations made about Pilar and a public apology."

"Perhaps it's time for the parties to submit to and release the results of a polygraph examination to determine whether infidelity was committed during the marriage and to put an end to the speculation once and for all."
Damn, maybe Pilar is innocent after all!
And these two are still living in the same house. How does all this work?
Be the first to receive breaking news alerts and more stories like this by subscribing to our mailing list.