A man from South Carolina reportedly died last month shortly after he ingested an entire ounce of cocaine that had previously been stashed in his brother's butt.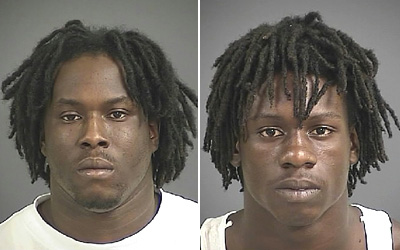 23-year-old Deangelo Mitchell (left) and his brother Wayne (20, on the right), both from Charleston, SC, were arrested after a routine traffic stop on November 30th when a cop found three small bags of cocaine hidden underneath the backseat of their 2001 Chrysler.
Video footage recorded from the squad car shows the men as they are being transported to jail.
In the video, Deangelo persuades his brother to do a simple favor for him: swallow the cocaine hiding in his butt (of all places) so that the cops wouldn't find it on him.
Apparently … Deangelo had a lengthy rap sheet, and was worried that he would face life in prison if the cops found the extra ounce of coke on him … on top of the coke they had already found in the car.
A clearly nervous Deangelo tells his brother Wayne in the video "I can't get no more strikes … no more" … before instructing his little brother to eat the cocaine from his behind.
"One of us gotta do it, you the only one that don't have any strikes. …You my little brother… I'm gonna get life," he said, according to an ABC news affiliate from Charleston.
Wayne eventually gives in to his older brother's constant pleas and eats the cocaine, which Deangelo had pulled from the back of his pants, most likely right out of his butt crack.
As Wayne eats the cocaine, Deangelo appears to regret asking his little brother to get rid of his drugs in that way. It seems as though Deangelo feels bad for his little brother, and knows what's about to happen next.
After he finishes eating the coke, Wayne asks Deangelo to check his mouth. His last words were, "I love you bro" and the video fades out.
Shortly after ingesting the ounce of coke, police say Wayne went into convulsions and started to bleed from his mouth. After being questioned, Deangelo told cops "he believed his brother swallowed an ounce of cocaine."
Within the hour, Deangelo's younger brother Wayne was dead. Toxicology tests determined the cause of death was an overdose of cocaine.
Now, in addition to the drug charges, Deangelo Mitchell is facing involuntary manslaughter charges, as well living the rest of his life with the guilt of inadvertently killing his little brother with cocaine from his buttocks, which is worse than any man-made punishment.
Watch the disturbing raw video footage from the incident below:
[TSG, ABC, Video report: Miami Herald]
Be the first to receive breaking news alerts and more stories like this by subscribing to our mailing list.