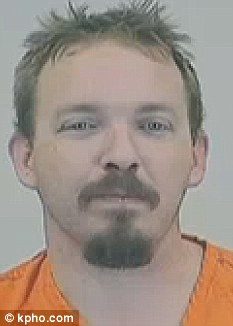 It's one thing to teach a person a lesson … but to send naked pics of them to all of their friends, probably won't get the message across that well!
An Arizona man was recently arrested for texting a naked photo of his girlfriend's daughter to nearly 40 contacts in her cellphone.
After finding an inappropriate photo in the phone of his girlfriend's daughter … Eugene Foster thought it would be a good idea to embarrass the teenager and possibly prevent her from taking more nude photos by sending the pic out to several people.
Well little did he know … he would be learning a valuable lesson too. Sending naked pics out of an underage teenager of is sexual exploitation of a minor.
"They get into a fight and during that discussion he decides I'm going to teach you a lesson. I'm going to send this out to 30 plus contacts on her phone and that's what he did," said Elias Johnson, spokesperson for the Pinal County Sheriff's Office. "You can't distribute images like that, no one can, its illegal… there was nudity, clear full frontal picture."
While detectives are checking into all of the girl's contacts to make sure they didn't forward the image, the girl's school has also sent out a letter making all parents and students aware of the racy text message.
"Texting images of minors is wrong no matter who you are, what your intentions are, you're going to be arrested. Its going to be as embarrassing as it is for Mr. Foster," Johnson said.
Hopefully Mr. Eugene Foster learned HIS lesson!
Be the first to receive breaking news alerts and more stories like this by subscribing to our mailing list.