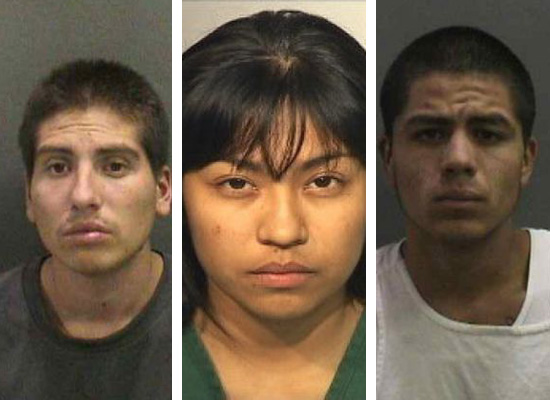 A 17-year-old girl from Santa Ana, California lied to her boyfriend and told him she was pregnant because she was afraid to lose him.
Nine months later when she needed a baby to keep up the lie, she tried to steal her roommate's 15-day old infant girl whom she was apparently going to pass off as her own.
According to the Orange County Register, Gladys Remigio hired two gang members — 20-year-old Steven David Quirino and 19-year-old Robert Henry Rodriguez — to kidnap her roommate's newborn daughter.
As the OC Register reported, Remigio, Quirino and Rodriguez, armed with fake guns, entered Rimigio and her roommate's home Tuesday (Nov 29) and ordered the girl to another room while Rimigio took the newborn.
For some unexplained reason, Quirino and Rodriguez fled the scene, which is when the roommate was able to get her baby back from Rimigio, who allegedly tried to leave with the baby.
Gladys Remigio and her gang buddies face multiple felonies, and are currently being held on $1 million bail.
If convicted, all 3 of them could face life in state prison.
Be the first to receive breaking news alerts and more stories like this by subscribing to our mailing list.