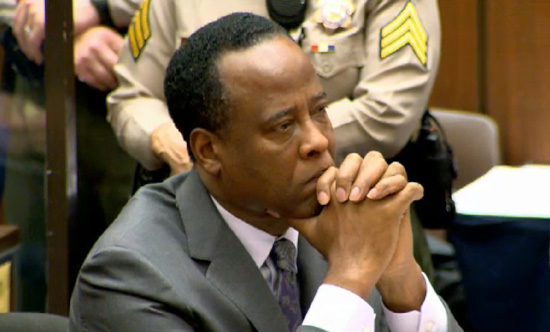 Dr. Conrad Murray was sentenced to four years in jail today for his role in the death of Michael Jackson. But the (former) doctor will reportedly only serve half of his sentence at the L.A. County Jail due to overcrowding.
Just three weeks ago, Murray was convicted of involuntary manslaughter following a 6-week trial in which prosecutors successfully argued that Jackson's shocking 2009 death was the result of Murray's reckless use of the surgical anesthetic propofol to help the singer sleep.
Testimony during the trial revealed that Murray told detectives he had been giving Jackson nightly doses of propofol to help him sleep as he prepared for a series of comeback concerts in London due to kick off the next month.
Propofol is an anesthetic drug to be used in hospital settings and has never been approved for at-home sleep treatments, yet Murray clearly admitted to giving it to the King of Pop (without proper monitoring equipment), then leaving the room the day he died.
attended the proceedings.
In a lengthy statement delivered before Murray's sentencing — attended by several members of Jackson's family, including mother Katherine and siblings LaToya, Jermaine, Randy and Rebbie — Judge Michael Pastor said that he felt as though he had a significant responsibility to utilize his sense of "fairness and decency" in determining the appropriate sentence for Murray.
Judge Pastor also said that in his decision, he had considered not only the entire "book" of Murray's life, but also the "book of Michael Jackson's life."
"Regrettably, as far as Dr. Murray is concerned, the most significant chapter, as it relates to this case, is the chapter involving the treatment, or lack of treatment, of Michael Jackson."
Jackson died "not because of an isolated one-off occurrence or incident," Pastor said. "He died because of a totality of circumstances which are directly attributable to Dr. Murray … because of a series of decisions that Dr. Murray made."
He also cited Murray's "pattern of deceit and lies. That pattern was to assist Dr. Murray."
Pastor noted that a tape recording of Jackson's slurred voice (due to him being drugged up) was Murray's "insurance policy" that was "designed to record his patient surreptitiously at that patient's most vulnerable point. I can't even imagine that happening to any of us because of the horrific violation of trust."
He said he wondered whether or not Murray would have sold the tape, had Jackson not died and the two had a falling out later on down the road.
Prosecutors said in a sentencing memo filed with the judge last week that Murray had "displayed a complete lack of remorse" about Jackson's death, adding that he is "even worse, failing to accept even the slightest level of responsibility."
The Judge also made note of Murray's critical comments about MJ in his recently aired documentary, while prosecutors cited Murray's decision to not testify in his own defense, even though he gave interviews for the documentary that aired days after the verdict, in which Murray says, "I don't feel guilty because I did not do anything wrong."
"In each of these interviews, the defendant has very clearly stated that he bears no responsibility for Michael Jackson's death," the prosecutors said. "Moreover, the defendant has continued to express concern only for his individual plight and portrays himself, not the decedent, as the victim."
"Finally, the defendant consistently blames the victim for his own death, even going so far as to characterize himself as being 'entrapped' by the victim and as someone who suffered a 'betrayal' at the hands of the victim," the prosecutors said.
In addition to asking the Judge to sentence Murray for the maximum four years, prosecutors also asked for Murray to be ordered to pay Jackson's 3 children Prince, Paris and Blanket more than $120 million in restitution.
Murray is unlikely to ever practice medicine again, so it is very doubtful that he will be able to pay any of this money out of his own pockets.
But the fact that he owes so much money will prevent him from reaping any major financial benefits from the sell of any books, interviews, film/TV projects, etc. in the future.
Be the first to receive breaking news alerts and more stories like this by subscribing to our mailing list.