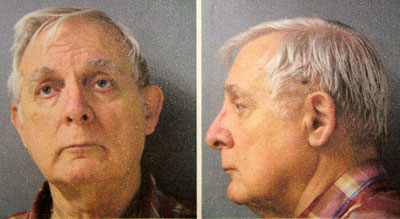 A math teacher at a suburban Christian School near Chicago is facing felony charges after a student caught him masturbating in the middle of class one day.
75-year-old Paul LaDuke admitted to police in a handwritten note that this wasn't the first time pleasuring himself in the midst of his students either. He said that including Friday morning, he had masturbated in his classroom (during class) for the past 10 years. (This was just the first time he had been caught … Wow!)
"During his 10 o'clock algebra class the defendant placed an apron over his clothing and sat behind his teaching podium," Tandra Simonton, a spokesperson for Cook County State's Attorney's office, said. "While the children were doing an assignment, the defendant unbuckled his pants and slid them down to just below his hips. The defendant then began to masturbate."
According to CBS Chicago, LaDuke, who possibly suffers from dementia, masturbated in the middle of teaching his class of 13 students while an apron was draped over his lap. In the handwritten note to police, LaDuke also admitted that he usually fantasized about his female students while he masturbated.
Defense attorney Irv Seidler said he thinks LaDuke has some form of dementia, which makes him a very "agreeable" person.
"I'm not sure if they're his statements, or again, being told what happened and then just repeating what he was told," Seidler said. "It's hard to tell. He's agreeable. If I tell him that it's nighttime out, perhaps he would believe it. He has some evidence of dementia. He's 75 years of age. He has limited recall of what happened."
On Friday, one of LaDuke's students at Schaumburg Christian School told another teacher that he thought LaDuke was masturbating behind his podium during class.
The teacher immediately notified administration and an internal investigation was launched that led to LaDuke being fired Friday.
LaDuke, who taught at the school for over 25 years, was arrested Monday and charged Tuesday with felony sexual exploitation of a child, with a bond set at $40,000.
"I don't want to say anything," LaDuke said after he was released from Cook County Jail after posting bail Wednesday evening..
The school's administrator Jim Toth said LaDuke was "very well-liked, a good teacher, been here about 27 years, never had issues, anything like this with him in the past that we were ever made aware of. Many, many students are very saddened that this has happened."
Be the first to receive breaking news alerts and more stories like this by subscribing to our mailing list.